The team of Cameroon will be represented on Saturday 5th August 2023 at the final stage of these competitions by 4 boxers.
Out of the 11 semi-final bouts that team Cameroon disputed on the 3rd and 4th of August 2023, only 3 were won and 1 was grabbed at the entry stage. The team will be represented at the finals by 4 boxers, that is two women and two men.
In the women's categories, the green, red, and yellow flag will be carried by Ngoune Reine Laure (50-52 Kg) and Onguene Tsimi Marie Victorine (81+ Kg Heavy) who qualified at the entry phase. The female boxers will face respectively Nyembo Muamba Gisele and Malewu Jorbelle both from the Democratic Republic of Congo.
In the men's categories, the flagbearers are: prolific boxer Marcial Wouang (46-48 kg minimum) and Zacharie Serge Mvogo Amougou (92+ kg super heavy) will challenge respectively Lusizi Lubabalo from South Africa and Agnes Keddy Evans from the Seychelles.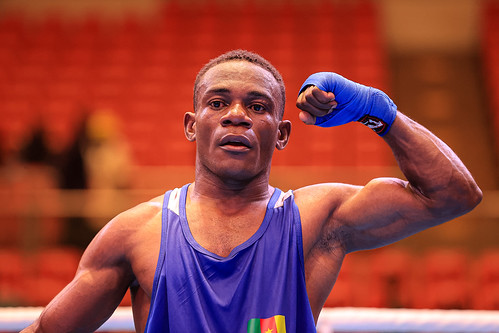 Jean-Paul Mognemo, head coach of team Cameroon said though the technical staff expected to have at least 6 boxers at the finals, they remain confident in tomorrow's fights to grab gold medals.
He however criticized the results of the juges after the fight between his boxer, Issouhou Mouhaman and against morroco's Mortaji Said.
According to coach Jean-Paul Mognemo it is a stolen win. Issouhou Mouhaman defeated the morrocan boxer in two rounds and battled toughly. He also pointed out the cases of two of his boxers(Fouotou Junior and Alain Christian Nsangue) unfairly booted out of the championships by the juges.
The technician in a positive mood said the team Cameroon has all the chances to win because of the quality of its boxers taking part in the final bouts.
Zacharie Serge Mvogo Amougou on his part said he is more than ever determined to defeat his adversary in the ring in a bid to have the gold medal and title of champion in his category. Cameroon's super heavy boxer was speaking after his brilliant win over Solomon Kozaala of Uganda.
As the competitions is about to drop curtains in Yaounde, Cameroon, 19 countries of the 26 participating have earned medals. On the top 3 charts, DR Congo leads with 14 followed by Morrocco with 13 and Cameroon with 11. Other nations like Mozambique have 9 medals, Algeria, Kenya, and Uganda have each 7 medals so far.
Elise Kenimbeni