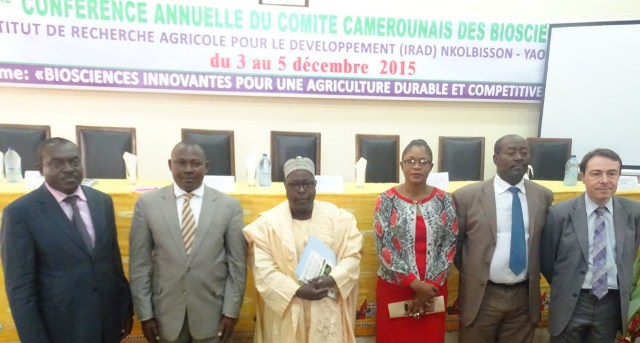 The 22nd annual conference of the Cameroon biosciences society (CBS) holds in Yaounde, the nation's capital from 3rd to 5th December 2015. The conference is focused on the theme: "Innovative biosciences for a sustainable and competitive agriculture".
Opening this meeting regrouping hundreds of students and experts in the domain, the General Manager of the Institute of Agricultural Research for Development (IRAD) highlighted the stakes and challenges of the ongoing 22nd session. Mr Woin Noé said:
"This high level encounter will help participants to confront the various challenges of the time notably quality seedlings and climate change. Sustainable and competitive agriculture are factors of response to the numerous follow up made over the years by experts. As participants gather at IRAD, an institute that represents a platform of research at the level of Central Africa, there is need to edify them on the many benefits and advantages of biosciences. At the end of this conclave, recommendations should be made on the notion of sustainable and competitive agriculture.
On his part, the president of the CBS, Professor Nicolas Niemenak who doubles as Associate Professor of biotechnology plant, cocoa at the higher teachers' training college of Yaounde expressed his satisfaction with regard to the fact that the event holds at the time, the COP 21 conference in Paris-France gathers Heads of states and governments for a "universal accord" on global warming to 2°C. According to Professor Niemenak, progresses registered in agriculture over the past 50 years have conducted in the important increase of productivity. These performances are thanks to mechanization, specialization and standardization of productions as well as the intensive utilization of inputs. He said several recommendations have been made by participants in the 21st conference such as:"the necessity to master our food systems in order to propose research solutions in line with needs of communities"
The opening ceremony was equally marked by the welcoming speech of the Director of IRAD's center, Dr Pauline Mounjouenpou and words of the resident representative of the Deutsher Akademischer Austausch Dienst (DAAD), Mr Frank Kahnert. Ahead of inaugural lecturers made by prominent researchers,the scientific Director of IRAD, Dr Ehabe Eugène Ejolle in a brief presentation of the institute focused on its missions, perspectives and strategic plan from 2013 to 2031 coupled to its four main components.
By Elise Kenimbeni