As part of activities to mark the International Day of Children's Rights observed every November 20, Plan International Cameroon organized a media corner in Yaounde.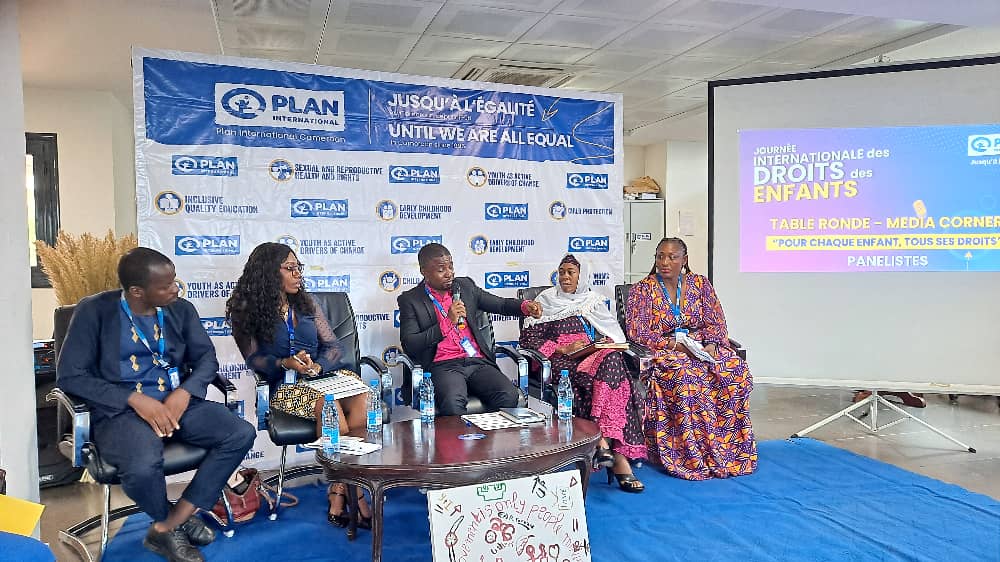 On Friday 17th of November 2023, the head office of Plan International Cameroon in Bastos, Yaounde played host to a media corner that focused on promoting and advocating for children's Rights.
The media corner initiated by Plan International Cameroon was aimed at dissecting the legal frameworks governing the rights of children in Cameroon; reflecting on key achievements that have impacted the children's rights and lives and spotlighting child activists' initiatives in line with their protection.
To open discussions at this one-day event that gathered officials from the Ministries of Justice, Women's Empowerment and Social Affairs as well as advocates from civil society organizations and the media, Dr. Eddy Patrick Donkeng, Head of Communication and Influencing department at Plan International Cameroon said this initiative will go a long way and shall henceforth be inscribed in the humanitarian organization's agenda.
According to Dr. Donkeng, the media corner will act as a safe space for sharing best practices and communicating on untold issues that affect children, young girls, and boys in general.
He said media men as key actors have been embarked on board due to the impact of communication and most importantly because Plan International is an initiative set up by a journalist.
Speaking on behalf of Mohamed Bah, the Country Director of Plan International Cameroon, the Director of Programmes said the media corner could today be described as a gathering of experts meeting for concrete actions.
Yenji Mairou said Plan International Cameroon values the media and keeps working in collaboration with journalists to enhance children's rights.
The Director in charge of Programmes at Plan International Cameroon stated that activities in line with the International Day of Children's Rights are prior, with regard to the organization's vision.
"When you look at the International Day of Children's Rights, it is in line with the vision of the organization which deals with advancing the rights of children and equality for girls. Through this initiative, we want to ensure that 200.000.000 girls can read, can learn, can decide, and can strive." She indicated.
Striving to promote Children's Rights
Young parliamentarians and championing children's rights were equally part of the conversation. Issues plaguing children's education, sexual harassment, abuse, early and forceful child marriages, and child labor just to name a few were highlighted in the course of the conversation.
Zita, a female junior parliamentarian in the Center region of Cameroon and who has the status of refugee said the media corner grants her the opportunity to speak on behalf of her mates who suffer from stigmatization and discrimination.
Joel Mefigue and Donald Arsene Ndongo, two young parliamentarians who were equally part of the round table discussions took advantage of the event to spell out the different problems which hinder children's development. It was disclosed that several children are subjected to ill practices and are abused but cannot voice out.
Hadia Kasim, a champion for children's rights and student in Terminal C of the Francophone sub-system of education was given the floor to express herself during the session. The young female student stressed on an inclusive education for all children.
Hadia believes a society that seeks development can advance with all children, both girls and boys, be they normal or physically challenged. She said no one should be left aside, children living with disabilities are filled with dreams but are most often marginalized. The future can only be bright when children have the same and equal opportunities as she underscored.
Also during the media corner session, renowned gospel artist, Indira Baboke through a video invited all stakeholders in charge of children's rights to double efforts to protect them. She promised to reiterate the call for child protection in her songs.
As a young female gospel artist, Indira Baboke uses her songs to educate people and channels amongst other messages of faith, encouragement, and perseverance.
Experts and child activists who were taking part in the discussions castigated malpractices and ills to which children are exposed in society.
Adolf Mbonyam, leader of CASAF, a civil society organization that advocates for children's rights said tackling issues affecting children is a collective engagement.
He said: "We have to continue working to make sure that every child is given the freedom to succeed both in school and in life. We have to join hands to tackle all forms of violence, be it sexual abuse, corporal punishment, and even online exploitation…"
On his part, Leon Enama of CAM-CRIM insisted on childhood protection. He said it is at an early age that children dream of their future and if children are deprived of such dreams their future will be jeopardized.
In his presentation, Mr. Sandjio Herve from the Ministry of Justice outlined the different legal frameworks that protect children in Cameroon and stated that the law prevails in terms of sanctions.
Impacting through communication
Amongst the panelists was Moity Uwaifo, a skilled and experienced journalist working for CRTV, the national media outlet.
Moity projected a video report that upskilled the audience on dyslexia disease. Through this report, it was disclosed that many children are affected by this illness which has to do with learning difficulty that primarily affects the skills involved in accurate and fluent word reading and spelling.
According to Moity, this is one of the issues that need to be spread out for people to understand that some children are not dull but could be facing such illness.
Moity narrated: "As journalists we must inform, educate, and entertain and we can sometimes go beyond these three duties of ours to advocate for vulnerable persons like children. We as journalists are always called to be partial but we can't be partial in the face of children facing difficulties. There are subjects which we can dig into more and highlight to the public."
At the end of the session, Mrs. Yenji Mairou, Representative of the Country Director expressed the hearted desire of the humanitarian organization that strives for a just world and supports the government in implementing its various national policies dedicated to child protection.
"We know to be able to ensure that the rights of the children are protected, it is a collective effort from different ministries. It is a collective effort from the parents, the children, and the media. We have invited media personnel here, we have invited different ministries and we have invited the parents because we all have a role to play. We need to join our efforts together to ensure that the rights of the children are been protected…" Yenji Mairou added.
About World Children's Day
World Children's Day is celebrated on November 20 each year to promote international togetherness, and awareness among children worldwide, and to improve children's welfare.
November 20th is an important date as it is the date in 1959 when the United Nations General Assembly adopted the Declaration of the Rights of the Child. It is also the date in 1989 when the UN General Assembly adopted the Convention on the Rights of the Child.
Since 1990, World Children's Day also marks the anniversary of the date that the UN General Assembly adopted both the Declaration and the Convention on Children's Rights.
Elise Kenimbeni