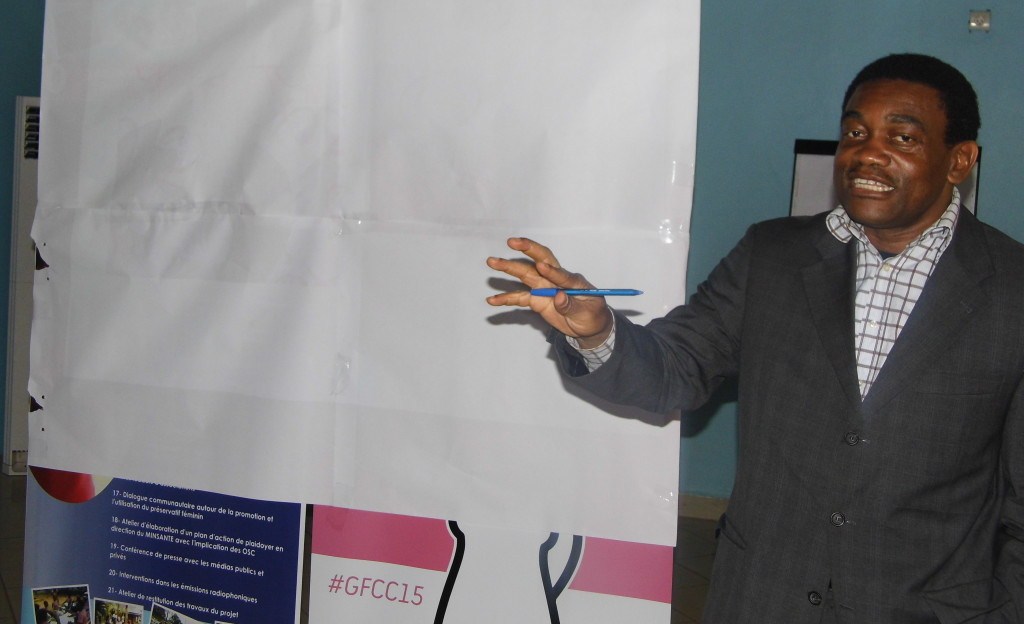 Mechanisms surrounding the Global Financing Facility initiative were deeply explained to civil society organizations and media practitioners convened for a three day workshop. It was under the banner of local based NGO Women-Health-Development known in its French acronym as FESADE.
The three day workshop held in the town of Mbalmayo some kilometers away from Yaounde, the nation's capital was an opportunity to scrutinize a series of issues surrounding family planning notably the Global Financing Facility (GFF) initiative. The GFF in support of the project Every Woman Every Child is a breakthrough financing model that unites resources from countries themselves, international donors and the private sector to accelerate advancements in the health of women and children. Launched at the Third International Financing for Development Conference in July, 2015, the GFF is a key financing platform in support of the United Nations Secretary-General's with the aim to accelerate efforts to end preventable maternal, newborn, child and adolescent deaths and improve the health and quality of life of women, adolescents and children, thereby preventing up to 3.8 million maternal deaths, 101 million child deaths, and 21 million stillbirths in high-burden countries, by 2030.
Cameroon, one of the beneficiary countries for the period 2015-2030 has launched a workshop in October 2015 and has set a pilot committee for the follow up of this programme. The initiative will operate at the national level through a platform having as duty to develop an investment file for Reproductive, Maternal, Newborn, Child and Adolescent Health (RMNCAH) and a health financing strategy under the chairmanship of the government. The meeting that took place in Mbalmayo is a continuation of capacity building on the issue as the NGO FESADE spearheads the promotion of female condom through its partner Rutgers/UAFC. Female condom for clear indication figures amongst the thirteen vital products essential for women's care. Explanations on the mechanisms of the GFF and Cameroon's gains were given by Dr Essomba Essomba Ernest, resource person at the multisectoral programme for the fight against maternal, newborn and child mortality in the Ministry of Public Health. According to him, the GFF initiative will be more inclusive for CSOs, the private and public sectors that are bound to work together in order to set up defined strategies that will help to alleviate maternal and child mortality. The GFF initiative has assembled a good number of partners to bear smart, scaled and sustainable financing in order to achieve and measure expected results.
Smart financing prioritizes investment in evidence-based, high-impact solutions such as nutrition, immunization and family planning delivered in an efficient result focused manner. As for scaled financing, it implies mobilizing the additional resources needed to fully finance the maternal and child health agenda from both domestic and international, and both public and private sources. Sustainable longer-term financing strategies anticipate the economic transition of countries from low- to middle-income status and secure universal access to essential services for every mother and every child.
The total amount to be granted to Cameroon was not mentioned by Dr Essomba but he insisted on the fact that the aid is not heavy as one can expect. He said, when the GFF initiative will be underway nationwide some zones will be targeted with regard to studies showing low potentials of family planning services. Most of the zones skeptical to be targeted are those of the northern part of the country.
Worthy of note, the GFF aims to reduce inefficiency in health spending over time, ultimately resulting in a reduction of the incremental resource needs for RMNCAH of approximately 15% by 2030, which would lower the resources required by more than US$6 billion per year. Additionally, the GFF aims to mobilize more than US$57 billion from 2015 to 2030 by crowding-in domestic resources, and by attracting new external support and improving coordination of existing assistance. A total number of 62 countries with low and intermediary revenues, particularly affected by RMNCAH problems are eligible to these resources as a form of grants in the trust fund.
By Elise Kenimbeni