The new regional Head of BUNEC Centre was installed on April 27, 2023, in Yaounde by General Manager, Alexandre Marie Yomo.
52 years old Joseph Laurent Kamgue Abbe was officially installed on Thursday, 27th April 2023 in Yaounde during a ceremony that gathered several officials, traditional chiefs, and relatives.
Appointed on December 22, 2022, by the executive board of the National Civil Status Registration Office, known by its French acronym as BUNEC, Joseph Laurent Kamgue Abbe replaces Joseph Sylvain Endezoumou who occupied this post for close to six years.
As underscored by the General Manager of BUNEC, Alexandre Marie Yomo who chaired the ceremony, the appointment of Mr. Kamgue Abbe by the executive board comes in as a quest for the amelioration of governance, efficiency and to strengthen the different actions carried out by BUNEC all over the national territory.
Bracing up Challenges
In his keynote address, Mr Yomo Alexandre Marie, General Manager of BUNEC said the newly appointed regional Head of the Centre has to show proof of the choice bestowed on him by the executive board, which certainly focused on his intellectual and academic references.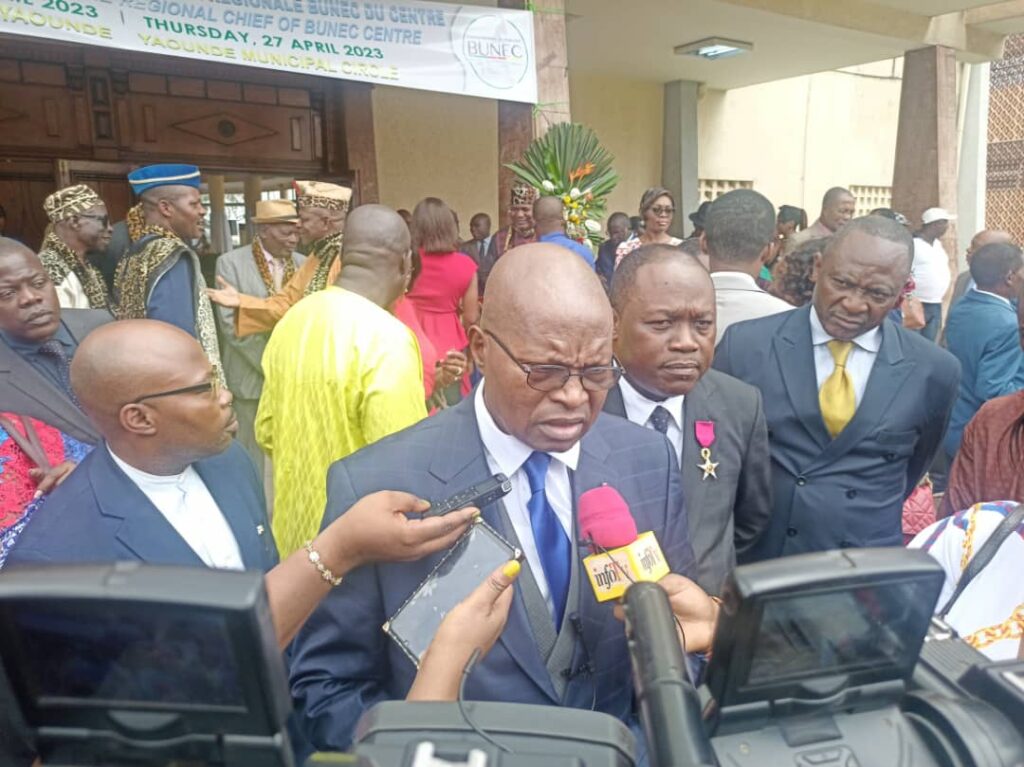 He outlined the challenges the new regional Head of the BUNEC Centre will face, which are diverse and need to be handled with a lot of precaution.
Besides, he called on Mr. Kamgue Abbe Joseph Laurent to keep a fruitful collaboration with different administrative, judicial, health, and council authorities as well as other stakeholders who have a pivotal role to play in the identification ecosystem of the region.
Mr Yomo in his speech equally invited the new regional Head of BUNEC Centre to pay specific attention to: the reinforcement of service offers of the civil status registry in terms of training of staff, distribution of registrars, follow-up campaigns linked to registration; and the reinforcement of the coordination between key actors of identification ecosystem.
The General Manager of BUNEC, Alexandre Marie Yomo also cited some relevant figures which need to be curbed by Mr. Kamgue Abbe and his teammates, as he takes on duties.
"At this moment, the annual rate of birth registration in the Centre region is estimated at 54.9% and which is under the national rate evaluated at 69%. In the same vein, I wish to outline that, in the course of 2022, we have identified more than 210.000 schooled children who do not have birth certificates." Mr. Yomo Alexandre Marie said.
These figures as he explained are key indicators of a drop-down on the civil status registry and must be tackled efficiently.
Other key challenges which need to be braced up such as the reinforcement of massive sensitization campaigns on the importance of civil status registration were equally unveiled by the General Manager of BUNEC. He pointed out the fact that the civil status registry impacts various national policies drawn up by the Head of State.
He indicated that to achieve Sustainable Development Goals by 2030, there is a need to accentuate birth registration in particular and amplify actions for people to register.
BUNEC's General Manager assured the newly installed regional Head of his full support and availability for the successful accomplishment of his missions.
About Joseph Kamgue Abbe
Joseph Laurent Kamgue Abbe, newly appointed and installed regional Head of BUNEC Centre was born on January 10, 1971, in Evodoula, Lekie division in the Centre.
He grabbed in 1999, a Bachelor's Degree in Public Law and later on a Professional Master II, both at the University of Yaounde 2.
On the professional plan, he has occupied the post of Adviser in industrial property at Global and Trade firm, GTT in Paris, France from 2005 to 2020. And from 2020 to 2022, he served as a Jurist consultant at MAETUR in Cameroon. Added to this professional career are series of training at the higher teachers' college of CAHAN in France and at the University of Paris XI.
After a professional internship at BUNEC, Mr. Kamgue was recruited in 2022 and has served as one of the staff in the administrative and financial department until he was appointed regional head of BUNEC Centre.
Joseph Laurent Kamgue Abbe is a 2nd class traditional ruler of the Mvog Onamnye 2 village in Evodoula.
Elise Kenimbeni