Prudential Beneficial Insurance and the Fondation Coeur et Vie officially presented to the public and media practitioners, the third Covid-19 relief fund launched on April 12, 2023, in Douala, Cameroon.
On Wednesday 12th of April 2023 at the Akwa Hotel in Douala, economic city of Cameroon, a good number of officials, key partners, media men, and some special guests were gathered for the official launch of the third Covid-19 relief fund initiated by Prudence Foundation, the community investment arm of Prudential Beneficial alongside Fondation Coeur et vie.
A donation of Fifty Million Francs CFA (FCFA 50.000.000) was made to boost the Covid-19 relief fund efforts which shall be carried out by the foundation Coeur et vie, a non-profit organization that fights against cardiovascular diseases in the African continent.
Saving Patients with Covid-19 & cardiovascular diseases
As indicated by co-organizers, the funds disbursed will greatly help in a five-month campaign aimed at reaching out to hospitals, educating frontline healthcare workers, and assisting community health centers in managing Covid-19 patients as well as those with cardiovascular-related diseases.
This third Covid-19 relief fund placed under the banner: "My Best Follow-up: You in our Hearts" will be set in motion in five targeted regions of the country notably in the Center, Littoral, North, South, and East.
The project scope extends to the Garoua regional hospital, Bertoua regional hospital, Ebolowa regional hospital, Nkongsamba regional hospital, and the Yaounde Central hospital.
And close to 3.5 million people are expected to be impacted by this fruitful project, between now and August 2023, given the strong presence of Prudential Beneficial Insurance Cameroon across the country.
This project also seeks to promote the digitalization of healthcare services and access to the greater all, provide concrete support for diagnosis and treatment and follow-up patients, as well as raise awareness on a massive scale. Conscious of dying urgency for COVID-19, there are yet recurrent respiratory/pulmonary infections, diabetes, and cardiovascular disease complications that plague our society today.
Handsome Brain Nkwenti, Chief Executive Officer of Prudential Beneficial Insurance Cameroon, underscored the company's commitment to tackle Covid-19 and related diseases, the reason why the insurance enterprise keeps engaging in the course for patients affected.
Handsome Brain Nkwenti said: "Prudential remains a company that helps people get the most out of life."
Over the past years, the company has sponsored various activities, geared towards safety campaigns, financial literacy, and health and well-being awareness, with health being a top priority towards getting the most out of life.
Covid-19 Relief Fund
The donation by Prudence Foundation reflects the company's dedication to provide corporate social responsibility to the community's welfare, leveraged on sustainable life balance, well-being, and financial growth initiatives.
The Prudence Foundation described as the Community arm of Prudential Beneficial Insurance launched the Group-wide Covid-19 Relief Fund in 2020 following the pandemic.
A timely intervention geared at financially supporting communities in Asia and Africa severely impacted by the pandemic. It identified frontline charitable community projects and non-governmental organizations to help protect the most vulnerable- children, families hit by poverty, and the elderly.
The initial support focused on providing protective equipment, Covid-19 kits, advocacy, and delivery of vaccines and medical supplies with Value Health Africa, and the Second Edition with Fondation Coeur et Vie reaching out to create awareness and encourage the community to be vaccinated. Today with the Covid fever over, there is still a need to support those who have developed complications and those with conditions predisposing them to be infected.
Such as Hypertensive patients with cardiovascular conditions, diabetics, and chronic respiratory infections.
About Prudential Beneficial
Prudential is a global financial services group that provides life insurance, pensions, and asset management products and services to approximately 20 million customers in Asia and Africa. Prudential offers life insurance in eight countries namely Cameroon, Côte d'Ivoire, Ghana, Togo, Kenya, Uganda, Zambia, and Nigeria. The life insurer has been offering affordable insurance and health solutions for almost ten years. Today, it serves more than 1.7 million customers through a distribution network of more than 13,000 distribution networks of more than 13,000 agents and 600 branches.
About Fondation Cœur et Vie
Fondation Coeur et Vie is a non-profit organization created in June 2011 by Dr. Armel Florent Djomou Ngongang. It brings together doctors, experts, and enthusiasts of health issues with the same vision: the well-being of the underprivileged. To date, it has provided nearly one hundred training courses nationwide and about fifty screening and awareness campaigns on cardiovascular diseases. Its mission is to promote the sharing of knowledge and good practices for detecting and managing cardiovascular diseases. It is a contribution to the improvement of the health of the population and the reinforcement of the capacities of health personnel.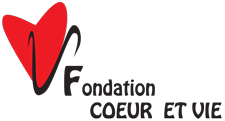 Elise Kenimbeni