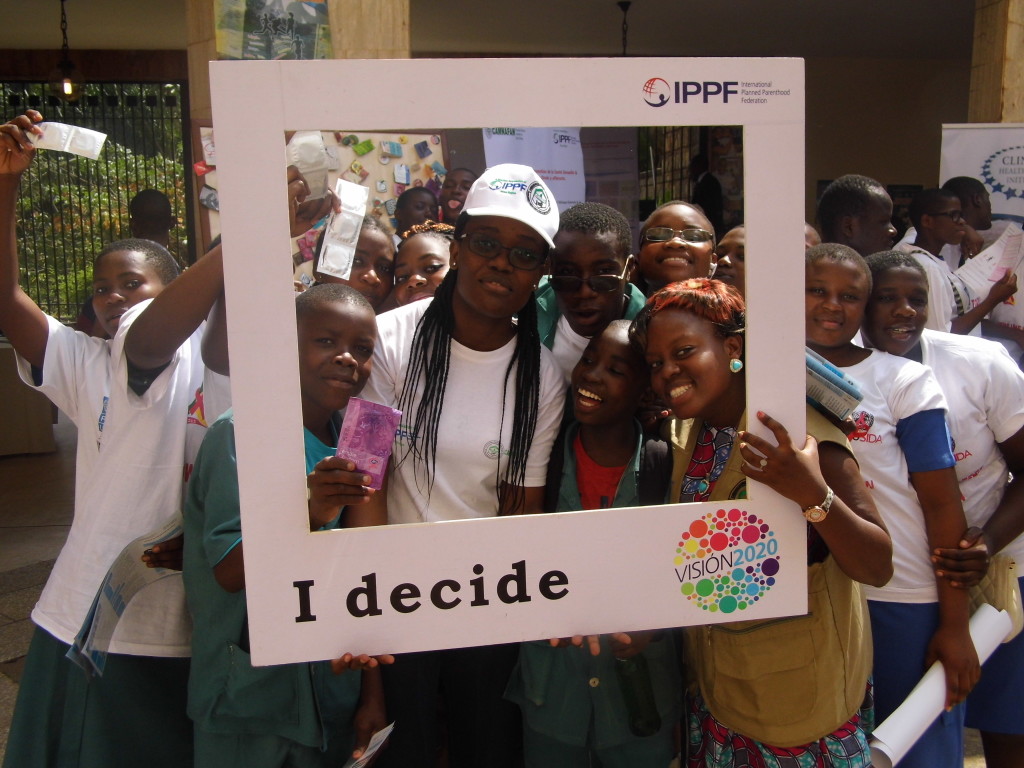 "Zero new HIV infections, zero deaths from AIDS and zero discrimination" is the theme reflecting this year's World Aids day. A commemoration highlighted by Cameroon's commitment in eradicating this disease.
Cameroon's Minister of public health, Andre Mama Fouda alongside some government members took part at commemorative activities of world Aids day in Yaounde, the nation's capital. Well chosen occasion to demonstrate the engagement of the country to crush HIV/Aids. Several government members, institutions and associations engaged in eradicating the disease in the country gathered as one in a beehive to outline their numerous daily activities. The Cameroon national association for family welfare (Camnafaw) was among others to show the various services offered at the national level. Youths of the center in Yaounde together with their coordinators made little demonstrations on male and female condoms available at their stand. Thousands of students invited for the occasion stopped at the Camnafaw stand by curiosity, for information and to demand for condoms available. They were most of them students from high schools, training centers and youth movements. A grandiose ceremony therefore highlighted by series of messages from authorities such as public health Minister Andre Mama Fouda who praised the efforts made so far by the country in fighting HIV/AIDS, the engagement of youths in screening tests and educative talks. The country Director of UNAIDS in her speech equally revealed the fact that Cameroon has been more committed in the combat and continuous to pave way to actions that encourage the populations to express on the issue.
The common programme of the United Nations on HIV/AIDS in UNAIDS published an important and new report on expectations of the sixth Millenium Development Goals (MDGs) as satisfactory. New HIV infections have decreased to 35 percent and deaths linked to AIDS to 41 percent. Global respond has helped in avoiding new infections of about 30 million people worldwide and about 8 million deaths. Cameroon from reports has been rated first country of the central African states in terms of prevalence rate. 4.5 percent as indicated and about 600.000 persons live with AIDS; seven people are infected after each hour according to the national committee for the fight against AIDS. Several strategies have been set up to curb the inflating rate on HIV/AIDS by UNAIDS: Favouring world progress in realizing fixed objectives by countries pledging for universal access in prevention, treatments and support to HIV, stop and crush down the propagation of HIV and contribute in accomplishing Millenium Development Goals(MDGs) in 2015.
Yet worldwide, according to data published by UNAIDS the UN agency to fight AIDS, 1.5 million people died from AIDS in 2013, a figure that shows a slight decline for the eighth consecutive year. In 2014, 36.9 million people lived with the HIV virus, and in June 2015, 15.8 million people had access to treatment. The 2015 UNAIDS report refers to a 35 per cent reduction in new HIV infections since 2000, a 42 per cent reduction in deaths associated with the disease since 2004, and an 84 per cent increase of people who have access to antiretroviral drugs to prevent the disease since 2010.
By Elise Kenimbeni