Consistent packages made up of books, textbooks, school bags, uniforms, a pair of shoe and other didactic materials were handed-over to 31 pupils and students of primary and secondary schools respectively.
The beneficiaries who are in majority from the Essos neighbourhood in Yaounde, Cameroon have been granted these sets of didactic materials ahead of the kick-off of the 2021-2022 academic year. The school materials granted are estimated between 30.000 to 70.000 Francs CFA for each child compensated.
Little Dieumeni Tchinwou Eunice, awarded the prize of Excellence as best primary school pupil of the 5th edition of the Realengo Prize said she is happy of all her gifts and especially of her shoes.
 In a meantime, best secondary schools' students who have distinguished themselves in the neighbourhood by succeeding in their "Baccalaureat" Exams were granted registration fees worth 50.000Francs CFA.
One of the "Baccalaureat" beneficiary, Jordan Tchoualeu said the 50.000 Francs CFA received in an envelope is not different from a scholarship gained. Jordan intends to use the money to pay his registration fees in the university. The young student praised the initiative and has thanked the promoter, Leopold Fanguem, pledging him to keep encouraging young people devoted in school.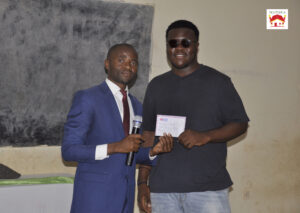 The award ceremony that took place on Sunday, August 29, 2021 is an initiative of local based association known as S.E.K.T.E.U.R.A which has launched the project dubbed: « Realengo Prize award ».
The Realengo Prize award project set up by Cameroonian born Leopold Fanguem seeks as of tradition to support needy children of the Essos neighbourhood where he has lived for several years in hard conditions.
As underscored by the promoter, the move is to empower needy children to pursue their studies and believe in their dreams knowing well the critical and difficult financial situations in which some of these families are entangled.
The goodwill ambassador of children of the Essos neighbourhood in a video projected during the ceremony has seized the occasion to encourage them to double efforts and work harder to merit other prizes in upcoming days.
Children and parents who attended the ceremony were equally entertained by Clovis Kamto, one of the senior staff of the association SEKTEURA. On his part, he counseled pupils and students on the need to develop their skills on reading, researches in order to be well informed and to build awareness on issues related to their future jobs. Clovis Kamto equally stressed on the fact that parents have a crucial role in the education of their children and should be conscious of their responsibilities.
Speaking on behalf of the founding and lead chair of SEKTEURA, staff teacher of the project, Brice Njongoue said there are several incentives which were launched and undertaken years ago.
He said: "SEKTEURA works closely with all parents whose children are officially recognized within the association and by the way holds meetings to sensitize and inform them of the benefits freely granted to children thanks to Leopold Fanguem. We reward best students every year, even those with fairly good results. We organize refresher courses for the needy pupils and students who cannot afford to have private teachers. I'm one of the teachers. We equally provide breakfast every day to primary school children. There is a given amount of money set aside for each child to obtain his breakfast in the nearby stores. Added to these, we organize health awareness campaigns and open discussions with parents."
The ceremony was also spiced by an educative talk on drug consumption. The session was led by Dr Fernand Ombolo, president of SOS Medecins Cameroun, key partner of SEKTEURA through its 12 month renewable health package dubbed "SOS Modulo".
"One of our main supports within the framework of this partnership with SEKTEURA is the organization of educative talks on some public health issues. These educative talks are conducted in a simple and accessible language in abid to help children grab more information and important messages on topics chosen. As we all know, children are the most vulnerable in our society and they are greatly exposed to some ills, therefore need to be sensitized." Said Dr Ombolo Fernand.
Apart from the Realengo prize award, renovation of classrooms of some primary schools in the surroundings, the free of charge donation of breakfast to children during school periods and refresher courses offered to pupils and students enrolled in the association SEKTEURA many initiatives are to be put in place according to the  lead chair.
Leopold Fanguem believes many fruitful initiatives are underway as long as he can provide with the little means at his disposal the wellbeing of these underprivileged children.
SEKTEURA is a non-profit organization created on December 2018 in Germany by Leopold Fanguem with the objective to give a push to all needy children. The organization entails with time to extend its activities nationwide.
Elise Kenimbeni