Cameroon's three representatives at the Huawei ICT competition 2022-2023 have been crowned 3rd on the world chart.
As of tradition, the Huawei ICT competition, well-known for its selective and qualitative criteria has left another landmark this year.
The 2022-2023 final competition phase brought together 146 teams from 36 countries from the 24th to the 27th of May 2023 in Shenzhen, China.
These outstanding candidates have each demonstrated their talents at the national and regional levels before acceding the world final stage which took place in China after threats from the COVID-19 pandemic.
This year's edition has been placed under the theme: « Connection, Glory, Future » to grant the necessary tools, and opportunities for the exchange of ideas between students and equip them with a digital platform.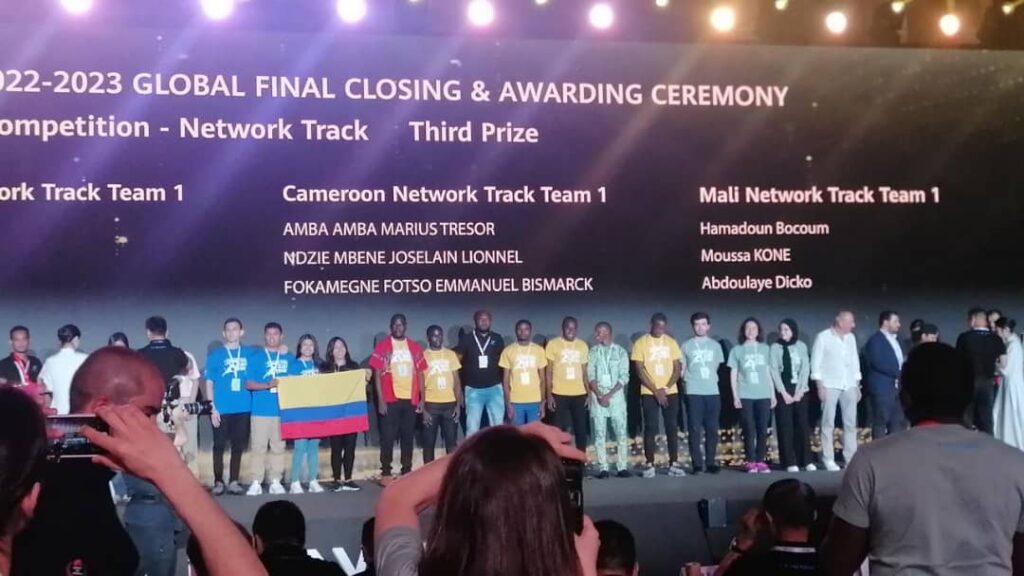 The competition has been divided into three (3) categories: the first focused on the industry; the second on practice (that is network, cloud, and computing) which entails the theoretical knowledge of students, their practical skills in ICT, and tests their ability to work in a team and the 3rd group is focused on innovation which allows students to be inspired by the real needs encountered in their daily lives to offer solutions with tangible social benefits and commercial value.
They must use artificial intelligence, the Internet of Things, big data, cloud technologies, and mobile Internet to design and create complete models.
Cameroon's active participation
Cameroon was again highly represented at the Huawei ICT 2022-2023 competition after she grabbed the second position in the regional contest.
In the ranks of Cameroon, there were: Ndzie Mbene Joselain Lionnel et Fokamegne Fotso Emmanuel Bismarck both students of the University of Yaounde 1, and Amba Amba Marius Tresor, a student from SUP'PTIC.
Dr. DOMGA KOMGUEM Rodrigue supervised these three brilliant students, who praised the job well accomplished by his team, and who was awarded the third prize.
Speaking after this challenging competition, Ndzie Joselain Lionnel said the contest has been very challenging but also rich with experience gathered so far.
"First of all, I would like to thank all those who have directly or indirectly contributed to making this competition go as well as possible. I would like to especially thank the instructors of my academy and all the Huawei staff in charge of this competition. Huawei ICT Competition is a long journey in which you learn a lot about advanced technologies in the field of ICT. I benefited enormously from new knowledge by participating in this long journey from the preliminary stages to the grand finale in China by learning more new things each time we passed from one stage to another. Thanks to Huawei for this wonderful knowledge transfer program. Thanks to this trip, I was able to discover Huawei's innovations, which for me was a great experience." He said.
On his part, the president of Huawei Enterprise Business Global Partner Development and Sales Department, Xiao Haijun expressed his satisfaction to all the finalists of this competition.
He said: "Digital talent and skills will become the basis for digital development. By the end of 2022, Huawei ICT Academy has established partnerships with over 2,200 colleges and universities, training over 200,000 students per year. In the future, Huawei will bring ICT educational resources to more schools around the world. By 2026, Huawei hopes to sign partnerships with 7,000 universities and will train more than 1 million students per year to broadly improve students' digital literacy and skills for building a vibrant and inclusive digital world."
Stephania Giannini, Sub General Manager at UNESCO, reaffirmed the engagement of the organization she represents and stressed on the need to develop digital competencies.
She said UNESCO firmly supports the work of Huawei in the domain of ICT education.
Since the first edition of the Huawei ICT competition in 2015, there has been a galloping registration of participants in the contest. More than 120.000 students from over 2000 universities and higher training colleges worldwide came to witness the competition.
About Huawei
Founded in 1987, Huawei is the leading global provider of information and communications technology (ICT) infrastructure and smart devices. We have 207,000 employees and operate in over 170 countries and regions, serving more than three billion people around the world. We are committed to bringing digital to every person, home, and organization for a fully connected, intelligent world.
Elise Kenimbeni