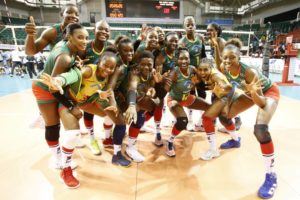 Host country, Cameroon defeated Botswana 3 sets to 0 in their first outing game on January 5, 2020 in Yaounde.
The lionesses of volleyball, in the first set won 25 points to 17, in the second set, they took a large lead of 25 to 4 and the third set 27 to 25.
Cameroon's lionesses made a 9-0 run (with Christelle Nana Tchoudjang  serving), from 5-3 and another 11-0 run (with Berthrade Bikatal serving) from 13-4 in the second.
Africa's title holder led by coach, Jean René Akono is determined to grab the qualification ticket as it was the case in 2016.
In their second game, team Cameroon will face Nigeria on Monday 6th January 2020 while Botswana will meet with Kenya.
Earlier in this competition, the opening game put neck on neck, Kenya and Egypt. Kenya won Egypt 3sets to 1(23-25, 25-15, 25-21, 25-22). The two teams described as favourites in the competition moved the public with their game.
Cameroon and Kenya hold a 1-2 win ration from 2019. Kenya beat Cameroon at the World Championships in Japan and at the Africa Games in Morocco. However, Cameroon beat Kenya to retain the Africa Cup of Nations in July 2019.
The Africa Olympic qualifiers in Cameroon puts on scene five teams: the host-Cameroon, Egypt, Kenya, Nigeria and Botswana.
Only the winner of the round-robin contest will seal the ticket to Tokyo in Japan.
By Elise Kenimbeni