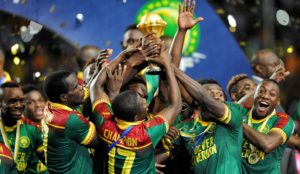 The highly awaited African Cup of  Nations will take place from January 9 to February 6, 2021, in Cameroon. The date of the competition was unveiled on January 15, 2020, after a CAF/Cameroon meeting in Yaounde.
Visiting CAF delegates have been holding talks with Cameroonian football authorities since the 13th of January 2020. Many issues have been reviewed ahead of the two major jamborees the country will host as from next April.
According to our sources, acting President of the Confederation of African Football said he is convinced the hosting of the 2021 AFCON in Cameroon will be a success. Ahmad Ahmad has praised the engagement and determination of Cameroon's Head of state in ensuring a smooth and befitting organization of the competition.
The official announcement of the date of the 2021 AFCON breaks suspense and rumours around a co-hosting of the 33rd competition.
Countries that will take part in this tournament will be known as from November 9, when the ongoing qualifying games will end.
By Elise Kenimbeni