Deputy speaker at the national assembly of Cameroon, Honourable Emilia Monjowa Lifaka died on April 20, 2021 in Buea, South-West region.
Member of Parliament for the Fako West constituency passed on at the Buea regional annex hospital after a brief illness.
The sudden departure of the vice-president of the national assembly who was described by many as a political baobab and devoted MP has left many in total dismay and shock just 72 hours after the celebration of her 62nd birthday.
Right Honourable Cavaye Yeguie Djibril, Speaker of the national assembly has announced with deep sorrow the death of his comrade.
Ekema Emmanuel working at the national assembly expressed sadness and pain for haven worked closely with the MP as the first ever appointed director of her cabinet from 2008 to 2015.
He said: "As a mother, Honourable Lifaka granted us the opportunity to work under conducive conditions. She cherished us as her children and there was no difference between her children and us. She dedicated most of her time and activities to young people. And as a youth, I'm so touched because we had a lot of hopes and expected much from her."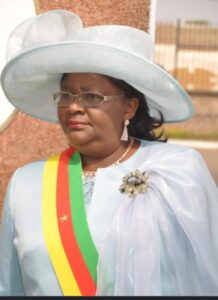 Honourable Monjowa Lifaka actively participated during the 2021 March Ordinary session of Parliament and even chaired some plenaries.  During the closing ceremony, the late vibrant Deputy speaker was seen at the rostrum where she read the address of MPs to US secretary of state on the pending Anglophone crisis.
The late 19 years long serving CPDM MP for the Fako West constituency was re-elected at the kick-off of the March 2021 session and top on her agenda as she underscored was; to tackle in her constituency many issues affecting vulnerable groups notably women and young girls as well as seeking for new venues to bring at heels the crisis that cripples the two English speaking regions of Cameroon.
In her last interview granted to timesnews2.info  she said: "I am so happy because it doesn't come every day. As a woman I will be serving my 12th year as a deputy vice-speaker. We will follow through government's reconstruction plan to see where we are because that is what will benefit our people. And of course projects that will bring honour and dignity to women, the girl child and Cameroonians at large."
Apart from being a member of the constitutional laws committee, the Deputy Speaker was Chairperson of the Commonwealth Parliamentary Association (CPA), executive committee voted in 2017 and founder of the Lifaka Foundation, a non-governmental organisation dedicated at helping youths, women and under privilege. 
Born on April 11, 1959 in Buea, Honourable Emilia Lifaka was voted into the national assembly in 2002 and in 2009, she was voted Deputy Speaker, a position she held till her death.
Elise Kenimbeni