The Speaker of the National Assembly, Right Honourable Cavaye Yeguie Djibril, took part in the official inauguration ceremony of the Tokombere council hall on July 19, 2022.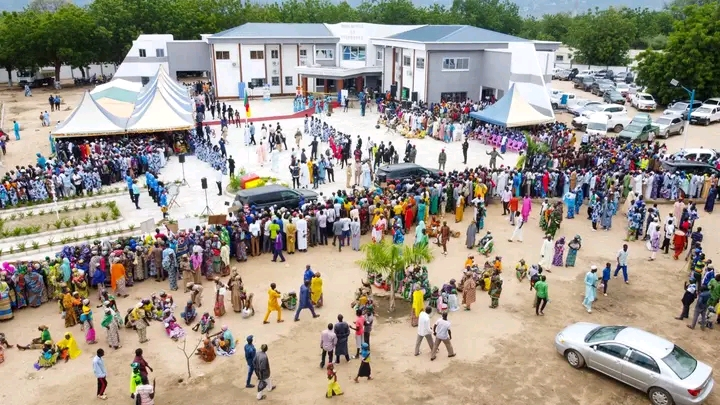 The newly constructed council hall of Tokombere, a locality situated in the Mayo Sava division of the Far-North region of Cameroon was officially on Tuesday 19th of July 2022 by Georges Elanga Obam, Minister of Decentralization and local development.
The ceremony which brought together several elites, administrative officials, and religious and traditional Rulers equally saw the presence of the President of the National Assembly, Cavaye Yeguie Djibril. As an elite of Tokombere, the Speaker of the National Assembly decided to actively take part in the ceremony, just a few days after the closing of the June ordinary session of parliament which was marked by intensive discussions and scrutiny of bills.
The newly inaugurated edifice, according to the Director General of the Special Fund for Intermunicipal Equipment and Intervention (FEICOM), Philippe Camille Akoa, is an R + 1 built on a site of 3 hectares and which cost up to 336 million FCFA.
The building includes on a ground floor: a reception hall, a block of three toilets, a room of acts, fifteen offices, three showers, an archive room, statistics, as well as a central double-flight staircase ». The first level includes the Mayor's Office, a secretariat, a private secretariat, a living room, a kitchenette, a meeting room, twelve offices, a mezzanine, and a private staircase ».
Among the key recommendations outlined during this ceremony was the appeal made by Mr. Akoa Camille to His Majesty, Chief Tikire Boukar, Mayor of the Tokombere council. He told the Mayor to have a watchful eye on the brand new building and make sure it remains in a good state.
Elise Kenimbeni