United Nations High Commissioner for Refugees and Plan International Cameroon officially granted on August 4, 2022, a consignment of ICT kits to students' refugees who benefited from the 2021-2022 DAFI programme.
Halime is a Chadian student currently undertaking a two-year course at the national school of administration and magistracy, ENAM. Just like other beneficiaries of the Albert Einstein German Academic Refugee Initiative programme known as DAFI, she received a brand new tablet that will help her in conducting research for her studies.
The young female student who is in Cameroon for several years now due to conflicts in Chad features among the 109 students' refugees who were successfully retained in the 2021-2022 DAFI programme launched at the level of the non-governmental organization, Plan International Cameroon.
While receiving her new ICT equipment from the hands of Mr. Johnson Bien-Aimé, Country Director of Plan International, Halime hailed the two organizations that eased her enrollment into the DAFI programme and promised to use the tool in a positive way that will impact her studies.
Christine Kikora, a student refugee from the Democratic Republic of Congo who acts as Vice-president and spokesperson of the DAFI club said thanks to the programme many refugees can henceforth hope to pursue their studies and achieve their dreams. Christine equally outlined the fact that the ICT kits will facilitate online research and assignments.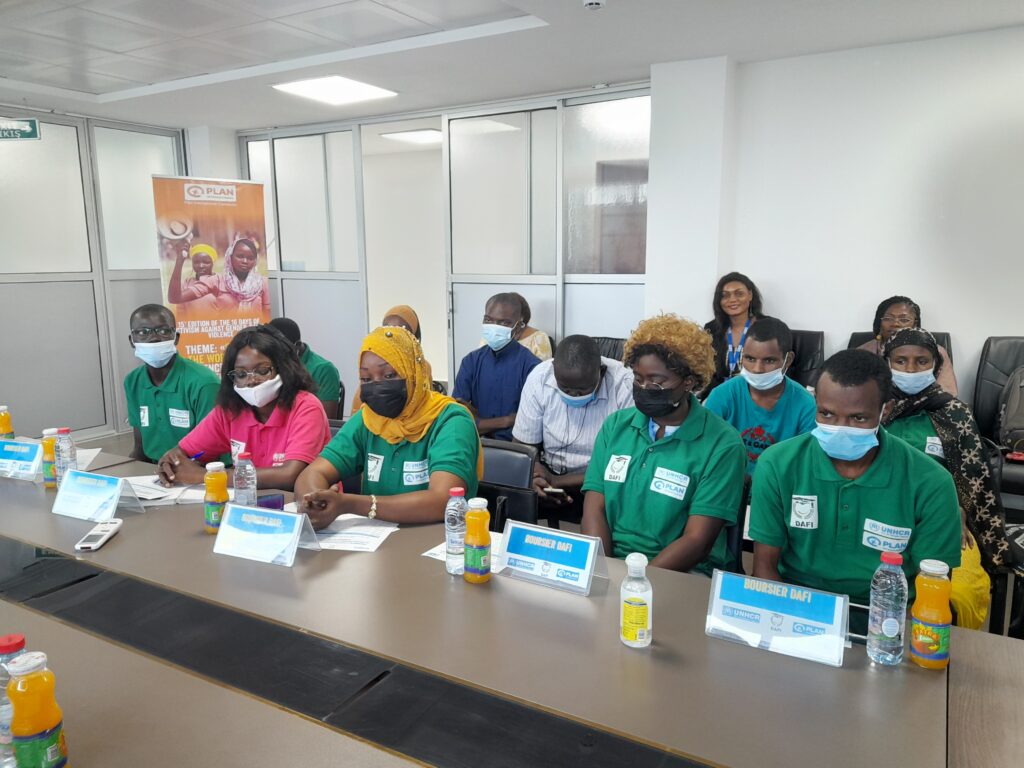 The DAFI scholarship programme as underscored by the representative of UNHCR at this ceremony, offers qualified refugee and returnee students the possibility to earn an undergraduate degree in their country of asylum or home country.
Pascal Blaise Sol Mankono, the national administrator in charge of education at UNHCR indicated that the DAFI scholarship programme constitutes one of the five core pillars of the strategy to achieve 15 per cent enrolment of young refugee women and men in higher education by the year 2030 – the 15 by 30 Roadmap.
"We gave tablets and we even hope to intensify this action with computers in order to permit these young students to gain advantages offered by the internet." He said.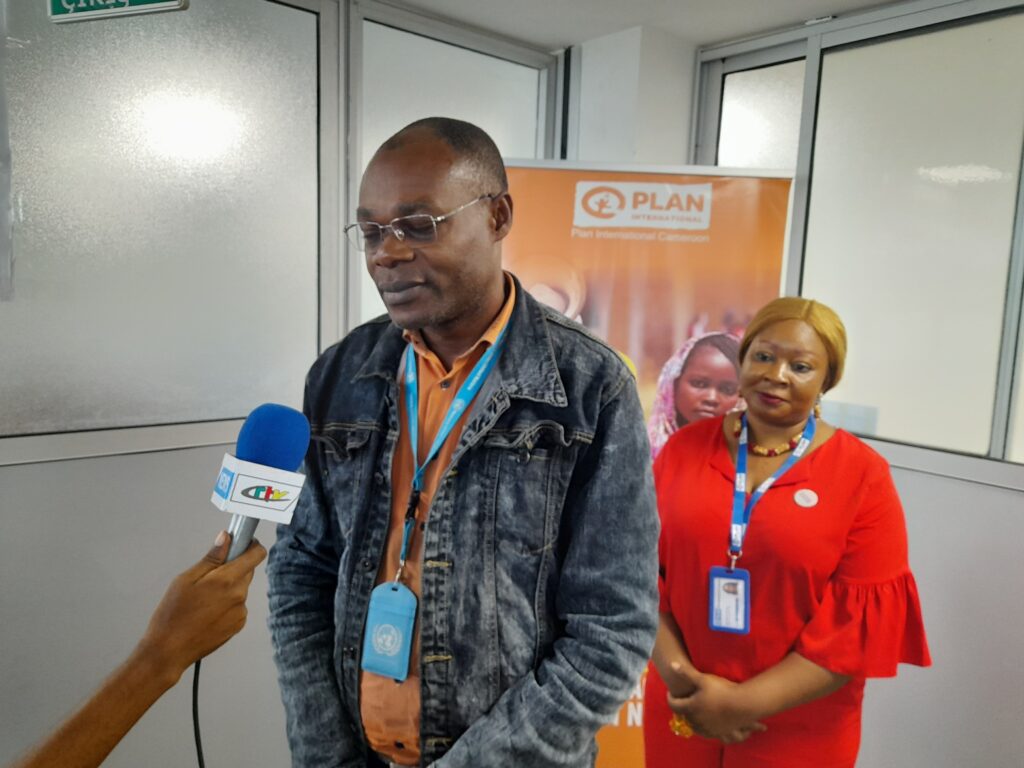 He however wished that Plan International Cameroon accentuates awareness calls and sensitization campaign in a bid to alert thousands of young refugees who are not informed of opportunities granted by the DAFI scholarships.
In his key words, Country Director of Plan International, Johnson Bien-Aimé first praised this initiative which appears to be a source of hope, added to the numerous educative activities carried by his organization on the ground nationwide and even worldwide.
He said: "First of all let me say thank you to UNHCR for the DAFI programme and thanks to the government that gives us this opportunity to support young people especially refugees to have hope to continue living out of their home countries. Youths are at the heart of our activities in Plan International, meaning that everything that comes from youth development, everything coming from youth interest, we are in to support it from the beginning till the end…"
Mr. Johnson Bien-Aimé equally addressed the selected group of beneficiaries as a father and called them to make positive and responsible use of these ICT kits. He said with easy access to the internet, many youths nowadays are trapped in ill practices and on social networks they are seen in degrading activities which do not honour them.
He further said: "We believe that the youths will make good use of this powerful equipment. It can be dangerous if they don't use them well or if they get them lost. We hope they will take care of it, they will use it for good, they will use it for their education and by the way act as ambassadors of the DAFI programme so that we can be motivated to support others."
Through the dedicated support of the government of Germany, the support of Denmark and the Czech Republic, UNHCR and other private donors, the programme has supported over 18,500 young refugees to undertake tertiary studies since 1992.
As indicated by the Coordinator of the DAFI programme at Plan International Cameroon, Dorine Ngo Djon, this programme has been existing for close to 20 years in the country and has restored hope in the minds of several students' refugees.
According to UNHCR, the DAFI programme has four main strategic priorities which are to: Promote refugee self-reliance through increased access to opportunities for employment and entrepreneurship; Empower students to contribute knowledge, skills and leadership and facilitate peaceful coexistence with host communities during displacement and upon return; Strengthen the protective impact of education by encouraging lifelong learning; Provide role models for refugee children and youth to demonstrate the impact of education on individuals, communities and societies.
Elise Kenimbeni