United States of America's Global AIDS Coordinator on a working visit to Cameroon, was received at the head office of Horizons Femmes in Yaounde, on Thursday 7th of September 2023.
Dr John Nkengasong, United States Ambassador-at-large and Senior Bureau official for Global Health Security and Diplomacy, who was in Cameroon for a two-day working visit has seized the occasion to make a stop in some community-based organizations benefiting from the PEPFAR Programme in the country.
Among these community-based organizations that are part of the US President's Emergency Plan for AIDS Relief, PEPFAR, is Horizons Femmes.
At the head office of the community-based organization, Horizons Femmes at Melen, a reputable neighbourhood in Yaounde, the US Global AIDS Coordinator followed a presentation on the different services offered in terms of HIV/AIDS prevention, listened to a beneficiary, and later on proceeded to a guided tour of the laboratory and safe space.
Dr Nkengasong for close to 45 minutes, exchanged with the staff of the more than 20 years serving community organization who has as main targets young girls, women, and vulnerable groups such as female refugees as well as sex workers.
With the balance sheet of activities led so far by Horizons Femmes, the first association in this particular domain, Dr Nkengasong, was marveled and did not fail to express his satisfaction.
Speaking to media practitioners at the end of his brief visit, Dr Nkengasong praised the work and numerous field activities undertaken by Horizons Femmes who plays a vital role in the fight against HIV/AIDS in the country.
"Cameroon has made a lot of progress in the fight against HIV/AIDS. We have seen how the rates of new infections have decreased over the years but we now know that we have a big challenge which is the high rate of new infections among young girls and women as a whole. What this organization does is very important because it focuses on women and provides them an opportunity to have a space to discuss HIV issues and benefit from prevention services." He said.
The US Ambassador-at-large also mentioned the fact that the fight against the HIV pandemic is a joint initiative that starts at the roots with associations, and community-based organizations and moves to the top with government and international organizations.
He pointed out: "We cannot defeat HIV without a full comprehensive program for prevention among women. I am very encouraged by what I have seen here today."
On her part, Denise Ngatchou, Executive President of Horizons Femmes saluted the multiple outstanding programs put in place by the United States of America in a move to tackle HIV/AIDS worldwide by 2030.
Madam Ngatchou said the organization which she has been leading for several years benefited from the PEPFAR programme for more than 12 years now.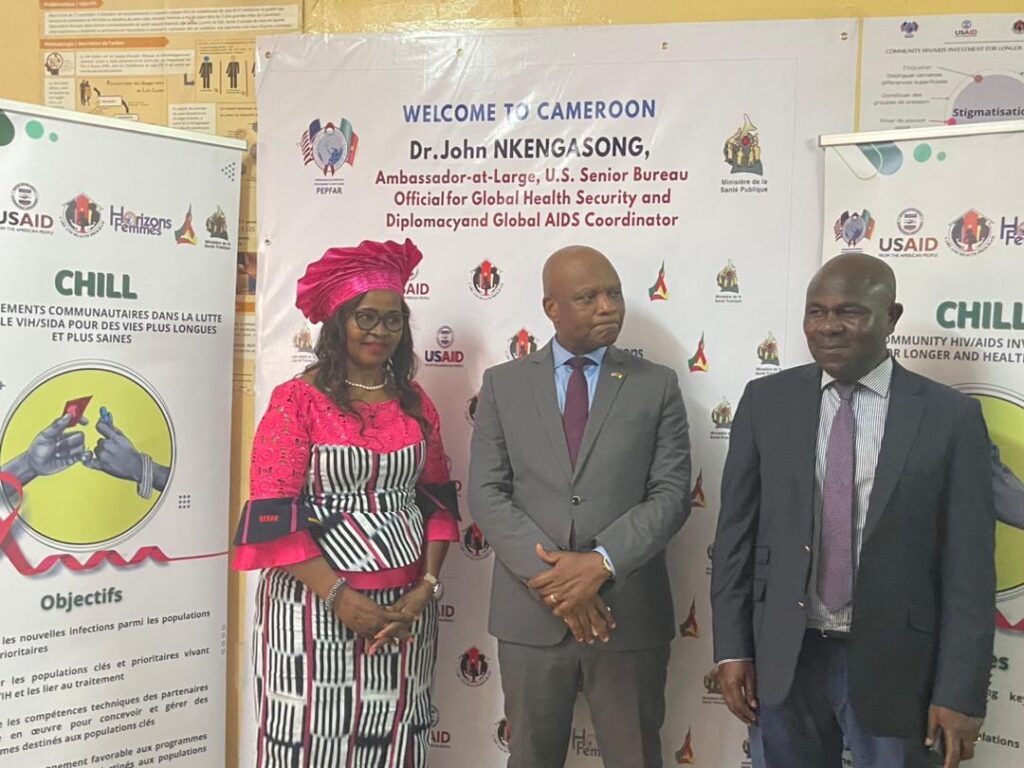 "This has been a great opportunity to exchange with the US Global AIDS Coordinator as we have for more than 12 years carried out many activities within the PEFPAR program. 12 years is not just a few days; we have gone a long way. Through the financial support granted by the PEPFAR project, we have been able to launch capacity-building workshops and provide services for our beneficiaries."
Despite the numerous activities undertaken by Horizons Femmes through this laudable program, Denise Ngatchou underscored the need for more investments that will help increase the well-being of the various beneficiaries.
The Executive President of Horizons Femmes said much is still to be carried out and there is a crucial need for investment, and believes the United States can do more by injecting funds into such community-led activities.
Who is Dr. Nkengasong?
Dr. John N. Nkengasong is a Cameroonian-American virologist serving as the Global AIDS Coordinator in the Biden administration since 2022 and Senior Bureau Official for Global Health Security and Diplomacy since 2023. He previously worked as the Director of the Africa Centres for Disease Control and Prevention from 2016 to 2022 and at the World Health Organization, WHO, and Centers for Disease Control and Prevention. During the COVID-19 pandemic, Nkengasong was appointed the WHO Special Envoy for Africa.
Dr Nkengasong earned his undergraduate degree at the University of Yaoundé I in Cameroon. During his undergraduate degree, he met Peter Piot, who encouraged him to visit Antwerp as a graduate student in virology. He ended up studying biomedical sciences at the Institute of Tropical Medicine Antwerp. After completing his second degree, he moved to the Vrije Universiteit Brussel, where he earned a Master's degree in medical sciences.
After earning his Master's degree, Dr. Nkengasong joined the research group of Guido van der Groen and Piot. His doctoral research was the first to characterize all of the genetic subtypes of HIV in Africa. He later completed a management qualification at the John F. Kennedy School of Government.
About Horizons Femmes
Horizons Femmes is a community-based organization created in January 2003 with the core objectives of: contributing to the amelioration of the health of young girls and women; favoring good governance in a bid to safeguard the Human Rights of its main targets; and promoting the socio-economic empowerment of young girls and women through series of activities aimed at poverty reduction, food safety, solidarity and social economy.
Elise Kenimbeni