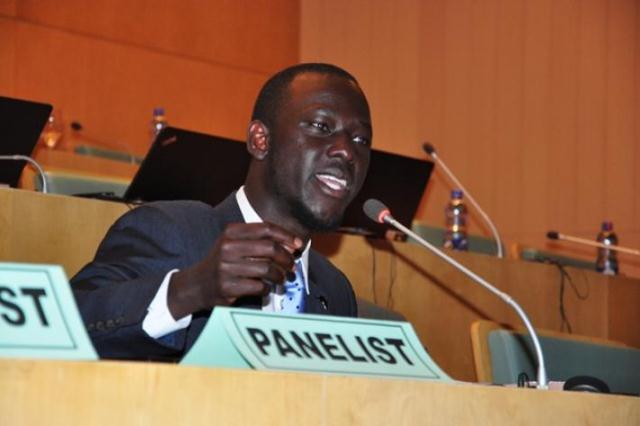 A young politician from the East African country of Uganda has challenged African youth to rise up from their slumber and claim their rightful spaces if they are to improve their livelihoods, and if the continent is to achieve gains in development.
"The reality is that many African young people today face a myriad of challenges, such as high rates of poverty and employment, drug abuse, alcoholism, reckless sex and unplanned pregnancies among others. Many youth are merely surviving, and sleepwalking through life. This is a great setback towards our achievement of 'the Africa we Want'. Young people, don't be comfortable with the uncomfortable situations you find yourselves in. Take charge of your own and realize that the continent depends on your positive input," said Emmy Otim, during a panel discussion at the 9th African Union gender pre-summit in Addis Ababa, Ethiopia, in a session titled: « Investing in Young People's Political Engagement ». The Africa Union theme for 2017 is "Harnessing the Demographic Dividend through Investments in Youth."
Representing Young Politicians in Africa, Mr. Otim further urged youth to deliberately engage in democratic processes and elect leaders who can help curate change and spur development in their countries.
"Young people must take time to understand the electoral process and their civic responsibility of choosing a leader who understands the need for investing in the resource that is young people. They should use their right to vote, and vote in leaders who are progress oriented," said Otim, while further urging them to desist from being used negatively by politicians.
"Unfortunately, many African politicians take advantage of young people and use them to among others, intimidate their opponents and perpetrate of violence against them. In fact, it could be said that such politicians are the ones reaping from the demographic dividend as they are unfairly capitalizing on the resources that is youth. Others who may be taking advantage of young people and their vulnerable or unemployment status are child traffickers, rebel militia groups and the rising radical groups," he said.
Mr. Otim encouraged young people to use their voices and effectively utilize the spaces they find themselves in to push their own development agenda. He particularly encouraged them to take advantage of technology, which is now more available to them than in previous years.
"Today's African youth are the most educated, exposed, creative and dynamic. They have access to technology, which, if used appropriately, can help them improve their standards of living and help them live quality lives. The various social media platforms that many youth have access to nowadays should be used effectively, to benefit not only themselves and their immediate communities, but their countries and the continent at large," he said.
IPPF Africa Region works closely with young people through the Youth Action Movement (YAM), where it implements various projects in different countries that support the empowerment of young people, helping them realize their full potential. IPPFAR is committed to the goals of the African Union Commission theme for 2017: "Harnessing the Demographic Dividend through Investments in Youth".
By Maryanne Waweru-Wanyama(IPPFAR)