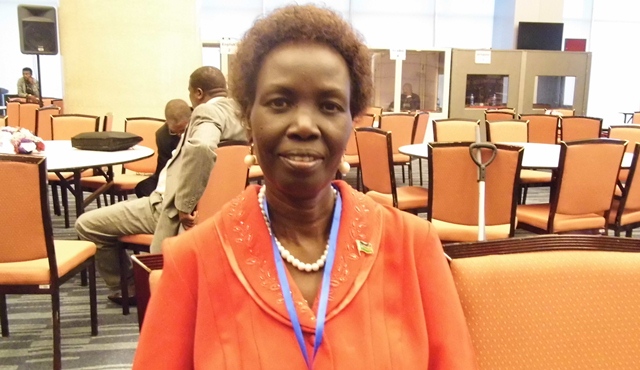 Hon. Rebecca Joshua Okwaci, South Sudan's Minister of roads and bridges, in an interview granted to us this 30th January 2017, reacted on AU's 2017 theme being : « Harnessing the demographic dividend through investment in youth ».
« It is an interesting theme for Africa, It should have come yesterday, not even today though i know there is a lot to be handled by Africa. But I would like to say that youths are the backbone of every nations, they are the generation to grow into future and we need to benefit from their number, energies and resources they  have for them to contribute in the future of this continent. It is our role, as African leaders to work on good policies that will give the youths an opportunity to grow. It is also important for us to give them some space thus sometimes we compete a lot with them and we push them aside and they get angry. In some countries where they are still wars and fightings, you will find the majority of youths joining opposition camps, rebellions and rebelling against their government and people. Whereas if we give them the space we can handle their energies ».
As a member of the South Sudanese government, Honorable Rebecca Joshua Okwaci, plays a vital role in her country as a matter of women's policies. She advocates for women and girls' empowerment since her young age and while on duty as Deputy Minister of education. She says : « girls should be given a chance to go to school. We hurry to marry them at early ages, we don not take care of them and they get pregnant and drop-out from schools. I continue to advocate for extra protection of girls for them to  be able to attend school lessons, go to school safely, come back safely, give them what they need so that they do not fall into the traps of strangers in order to commit crimes or who meet people who will seduce them with money. I do also condemn the issue of polygamy in our environment. Men of my father's age will turn to marry young girls, they will use their knowledge, money to cheat on them. I want to add my voice very high on the voices of those who are talking in Africa and beyond. We will like to make sure that our girls are not marry at early ages either because we want to benefit from the dowry or we want to get rid of their responsibilities etc. The 28th AU summit is a great opportunity to look into young people's issues. We have to put in place incentives and good policies for our youths ».
« In South Sudan's for instance, there are many policies which favour the development of youths » ; she says.
« We have critically showed in our constitution what do we mean by young people or youth. We take up to the age of 18. Starting from 18, this is when you start to be considered as an adult but below that you are supposed to be a child. From 18 to 24, these are all youths and  therefore our policies have identified what do we mean by child and what do we mean by a young person. We have put up very clear policies in youths and sports. Engaging the youth on issues of cultures, the positive ones and in terms of education we have a cardinal measure and punishment that helps to promote the education of young girls. In case an adult is found or reported to be making young girls pregnant he is punished. Also, any teacher caught to have made a female student pregnant is sent away from education and his name extracted from the list of teachers. We have strong policies protecting young girls in terms of gender just like young boys through the capitation grant. A grant that helps poor families especially to ensure the education of their children. So,we have good policies in place but our role is to work for their implementation which is a challenging task ».
Honorable Okwaci challenged youths to take over the powers bestowed on them with regard to their potentials. She equally called on all African leaders like her President Salva Kiir who are committed to the cause of gender equality, to support not only young boys but also women and young girls.
By Elise Kenimbeni (Addis Ababa)