The brave and hardworking female Coordinator of Bridgers Association in Cameroon was crowned recently in the United States by the International Alliance for Women.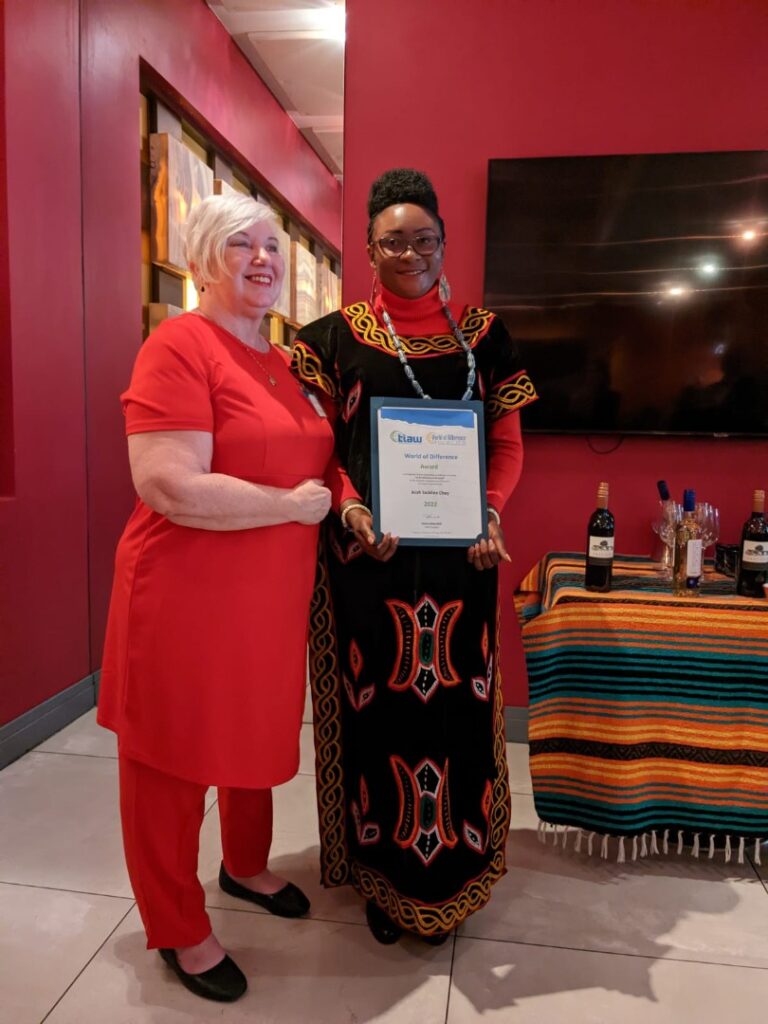 Azah Jackline Chey, Coordinator of Bridgers Association in Cameroon recently received the World of Difference Award, WODA attributed to her by the International Alliance for Women based in Washington DC, USA.
The award ceremony that took place in Washington DC on October 21st, 2022 is in recognition of her outstanding contributions in the area of economic empowerment of women in Cameroon under the Non-Profit Category.
The Coordinator of the Bridgers Association who keeps striving for impactful results with her organization is an inspiration to many grassroots women and girls in Cameroon where most of their activities are implanted and even beyond thanks to her experience in the domain. The WODA prize as international recognition, therefore, comes as a great encouragement to catapult her enthusiasm and that of her entire team.
In her words of thanks, Mrs. Azah Chey Jackline said: « We are particularly grateful to all our partners; beneficiaries; volunteers, and interns, this would not have been possible without you!"
About TIAW
The International Alliance for Women, TIAW is a global charitable foundation dedicated to the economic empowerment and advancement of women all over the globe.
TIAW is committed to an « inclusive economy », uniting, supporting, and promoting women and their chosen networks across all continents, which in turn supports and strengthens the global economic fabric.
Celebrating its 39th anniversary in 2019, TIAW was founded in 1980 in Baltimore, Maryland, USA as the National Alliance of Professional and Executive Women's Networks, and grew from a small but passionate group in the USA, to a worldwide organization group of professional women who united to support the economic empowerment and advancement of women.
TIAW is international, representing women and networks from all continents. TIAW is organized as a 501(c)3 foundation in the USA.
Bridgers Association as a key player in Cameroon
Since 2016, Bridgers Association is a registered non-profit organization based in Yaounde, Cameroon's nation capital, and with operations nationwide.
Bridgers Association has as key mission, that to empower women and girls in order to create an environment where women and men enjoy equity, contribute and benefit as equal partners without any barriers.
The association has the following major programs: women's Entrepreneurship/Agribusiness; quality education for the girl child; leadership Development/Volunteerism; the water, sanitation, and hygiene programs known as WASH; sexual reproductive health and rights and health awareness.
Timesnews2.info & Bridgers Association's Communication