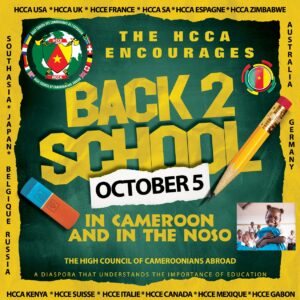 Read the entire message below
Hello all:
Back to school in Cameroon starts tomorrow October 5, 2020. Big day for the kids.
We, in the Diaspora, we know the value of education. Therefore, more than ever, the High Council of Cameroonians Abroad (HCCA), encourages the   kids to go school.
YES they MUST go back to school and we support that. And that has to be done with all the safety conditions.
A year ago, we gave a Press Conference (link to that press conference below) to urge those preventing the kids to go to school in the North West and South West regions of Cameroon to spare away those collateral victims from adults madness and political quarrels.
This year, we are doubling down: NO ONE SHOULD PREVENT KIDS TO ENJOY THEIR BASIC HUMAN RIGHTS WHICH IS THE RIGHT TO BASIC EDUCATION.
If you also support this « back to school campaign » for the children of Cameroon, please share this message in the Diaspora
Thank you
The High Council of Cameroonians Abroad (HCCA)