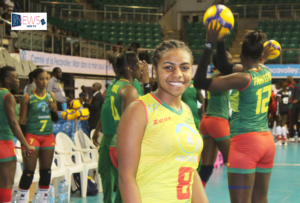 Young and talented Iza Cathy Ambassa is one of the discoveries in the 2020 Tokyo Women's Olympic qualifiers in Yaounde, Cameroon.
Iza Cathy Ambassa, 17, is described as one of the most important discoveries of the Cameroonian volleyball federation during the last winter season.
In the first game against Botswana, the youngest player of the national squad moved the public through her game full of engagement and passion.
Despite the slight mistakes registered during the two matches against Botswana and Nigeria, she has been able to stand firm and show proof of humility through some signs of apologies to her team mates.
Joyful in her way of playing, the jersey number 8 of Cameroon's women volleyball team, has been on several balls without any fear. Her talent and passion for volleyball were more highlighted in the match against Kenya on January 7, 2020. The unstoppable young Libero demonstrated she is worthy of trust by her national coach, Jean René Akono.
Ambassa plays with Rhône Alpes, a regional club in France. The 1metre 63 of height and 66 kilogrammes player is presented as one of the best Libero of her generation. According to observers, she is a volleyball player who is gaining strength in the discipline as time passes by.
Very young, she became interested in volleyball. She made her junior debut at the age of 12. Her reaction to the playground shows that she is very thoughtful. However, the size of the player with a promising future as a receiving attack shatters the dreams of her supervisors. After much thought, she was converted to Libero. In this position, she panics all records and therefore presents herself as one of the major assets of her team.
« Besides being a group leader, she is very attentive. She has a very good reading of the game and the trajectory of the ball", describes her club's coach, Cédric Partouche.
From a Caledonian mother and a Cameroonian father, her concern, like all champions, lies in her demand for perfection. « When she sets goals, she has no right to fail or to be mean. She is a real warrior," Cédric Partouche said.
 By Elise Kenimbeni