After discussions on how to ease land acquisition and social housing for Cameroonians living abroad, Members of parliament laid emphasis this time around on issues of land management and reform, its legal, economic, social and political aspects.
The discussions that took place on July 5, 2021 during a plenary sitting chaired by deputy speaker, Honorable Kombo Gberi had as main protagonist, state property, surveys and land tenure Minister, Henri Eyebe Ayissi.
Minister Henri Eyebe Ayissi was grilled by close to 15 members of parliament who questioned him on issues surrounding land certificates, ownership and reforms undertaken by government.
The Minister in his address stressed on: the situational analysis of the land tenure reform process under preparation in Cameroon; the responses to some current concerns relating to land tenure procedures and management; the issues, challenges and prospects of the land tenure management in the country. Minister Henri Eyebe Ayissi started by making it clear that the acquisition process for land tenure documents will be made digital, this will help reduce cost and increase accountability. He added in the course of his presentation that; digitalizing the process will make it difficult for more than one land certificate be given to an owner, thereby curbing corruption in the process.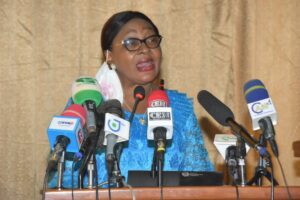 Honorable Marguerite Dissake from the Moungo constituency in the Littoral region pointed-out the fact that many Cameroonians are frustrated, some have lost their lives due to land squabbles. She said when it comes to issues of land in our country, majority of rich people own great portions of lands. She equally outlined several loopholes observed nationwide when it comes to land ownership. Honorable Dissake equally talked of indemnities which are also a great problem in our society.
Honorable Awutah Phillip on his part said the land tenure system despite the procedures simplified are still embedded by many hindrances. While on the rostrum, Honorable Awutah described the long trail of procedures which are imposed to citizens and the need to decentralize this strenuous process.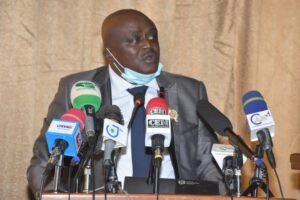 As concerns issues of acquisition of land by women, the minister stated out that, women have equal rights to land ownership as the men. He reassured MPs on the fact that the staff of his ministerial department and other partners are ensuring no injustice is made when it comes to issuance of land certificates to them.
As underscored by the minister, land disputes represent more than 80% of court cases, although access to land is made open to all Cameroonians without any differentiation of ethnic group, gender and religious beliefs.
Alongside Minister Henri Eyebe's presentation were that of the ministers of decentralization and local development, Georges Elanga Obam, Pr. Marie-Thérèse Abena Ondoa of women's empowerment and the family and Jean de Dieu Momo, minister delegate at the ministry of justice.
Elise Kenimbeni