As part of activities marking the international testing week, AFASO Cameroon has launched series of initiatives to run from November 22 to 28, 2021 in Yaounde.
Community based organization dubbed as "association des femmes actives et solidaires, AFASO" has launched in Yaounde, Cameroon's nation capital, series of activities to mark the international testing week.
The initiative which was set up by Coalition Plus alongside PACE, leading partners of AFASO Cameroon in this project, enters in its 2nd edition this year.
49 community based organizations from 40 countries worldwide are taking active part in this initiative and amongst which is Cameroon's association AFASO.
Within the framework of this international testing week, AFASO Cameroon has with locally based sisters' organizations`(Positive Generation and Alternative Cameroun) put in place a good number of activities which aimed at inciting the population to go for HIV/AIDS testing.
One of the key activities organized by AFASO on November 22, 2021 in her premises was an advocacy workshop with traditional rulers and chiefs of blocs where the association carries-out its interventions on daily basis.
The meeting was aimed at schooling traditional rulers on the importance of HIV testing and to create room for mutual collaboration that will ease access of peer educators in the community.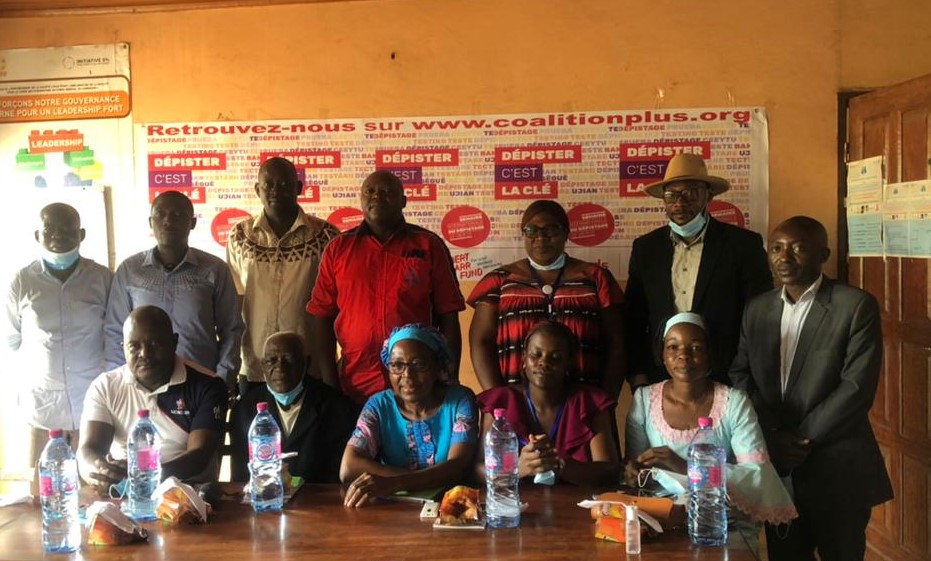 Delphine Ngwenyi, coordinator of AFASO said: "Our peer educators face a lot of challenges when going down to the field. So we had to call them in order to discuss on collaborative means that will help us to access population to do community testing. It has been a success because they came in their numbers. We expose our difficulties and they on their part proposed us some solutions. They told us henceforth, they will accompany us on the field."
"The community is very adamant to screening. When they see us coming towards them, they say popularly that what we are looking in their blood we will find it one day and when we find it we will tell them! Curiously those who come for repeated testing are those who already know their status…"She narrated.
Despite the various hurdles encountered, AFASO has put in place some strategies to tackle the hostile communities in which she works.
AFASO's Coordinator moreover said: "In the course of the advocacy workshop, these chiefs of blocs said they will sensitize their communities and facilitate things for us. Each chief of bloc for instance has promised us to put at our disposal one person who will accompany us while on the ground as a convincing strategy for people to adhere. It will not be easy for them to resist because they already know who is coming with us."
Key figures
According to records from the community based organization, AFASO many of the activities undertaken in different projects has yielded good results. The key interventions to develop systems and services, KIDDS project, carrying a bigger road map in the association has registered 3011 beneficiaries. The project dubbed "solidarité SIDA" has 1050 beneficiaries; the tuberculosis project 2025 beneficiaries while the HIV project carries close to 809 most at risk people. In terms of community dispensation of anti-retroviral, 689 patients have been received by the organization.
About AFASO
AFASO is an association of women infected and affected by HIV/AIDS, created in 1999 and legalized on July 29, 2000. The association based in Yaounde and Ayos, Centre region of Cameroon is governed by law N ° 90/053 of December 19, 1990.
It is a non-profit association which admits women from various backgrounds, regardless of age, religion, or race. From 1999 to 2006, AFASO only admitted HIV-positive women. Yet, to effectively fight against HIV/AIDS, AFASO found it necessary to embody all those who are engaged in the course.
Cameroon has witnessed a drop in its HIV prevalence rate which is today estimated at 2.4% thanks to the massive contributions of community workers. And according to the latest Spectrum 2020 estimates, the number of people living with HIV in Cameroon is estimated at 506.432 people in 2019, including 33.289 (6.5%) children under 15 for a sex ratio of 1/1 and 308.079 women among 474.951 persons living with HIV aged 15 to 49, that is an estimate of 65%.
Elise Kenimbeni