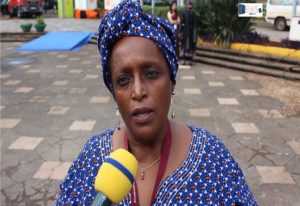 The International Planned Parenthood Federation-Africa Region (IPPFAR) is delighted to welcome Ms Marie-Evelyne Petrus-Barry as its new Regional Director.
She joins the IPPF family from Amnesty International where she was the Regional Director for West and Central Africa based in Dakar, Senegal. Before working at Amnesty International, Marie-Evelyne had served as Senior Official in numerous UN agencies, including UNDP, UNFPA, UN Department of Public Information, UN High Commission for Human Rights and UN mission in Haiti.
Marie-Evelyne has been a human rights defender since she was a teenager. She has promoted equity for all, the elimination of racial discrimination and the eradication of injustice. Her advocacy efforts towards tolerance and inclusivity have enhanced the development of peaceful and sustainable communities across Africa across the world. IPPF Africa Region will greatly benefit from her experience in human rights, development,  strategic communications including mediation and peacebuilding to reposition its work in the Africa region and beyond. Marie-Evelyne's robust wealth of experience in diplomacy, working with governments, advocacy and impacting policy, will enhance IPPF's mandate and work particularly in the improvement of the living conditions of women and youth throughout Africa.
"I hope to lead IPPF Africa to ensure access to life-saving reproductive health and rights services to all girls, women and youth on the African continent, thus contributing to the realization of all their human rights and enhancing a new Africa, free of discrimination and working for the development of all its citizens,"  said Marie-Evelyne Petrus-Barry.
IPPFAR is, therefore, approaching 2020 with new hope. Ms Evelyne will be leading her team towards a new era of sexual and reproductive health and rights (SRHR) advocacy and service delivery. Her work will be supported by the governance reform that has just been agreed upon at IPPF general assembly in Delhi, India.
IPPFAR is the leading organization in Sexual and Reproductive Health and Rights and service delivery to women and the youth in sub-Saharan Africa. It addresses the continent's growing SRHR challenges through a network of 42 locally owned organizations IN sub-Saharan Africa.
IPPF Communications' office