As part of activities inscribed on the tight agenda of the June 2021 parliamentary session, the house chamber of the national assembly played host on Wednesday June 30, 2021, to an information and exchange forum on the problem of housing and access to land of Cameroonians living abroad.
The session chaired by vice president, Honorable Abba Alim was placed under the theme: "Cameroonian diaspora, housing and land policy in Cameroon: current situation and perspectives."
The more than 5 hour session gave root to several presentations from government officials, key actors concerned by issues of land, housing and cooperation and by the way permitted to representatives of the diaspora to voice out the numerous challenges they encounter as concerns the acquisition of land, house ownership and titles in Cameroon.
Spokesman of the Diaspora at this forum, Jean Yves Elemva Essono said these discussions will help bring solutions to their problems and set the pace further fruitful investments of Cameroonians living abroad who have for long be hindered by local procedures.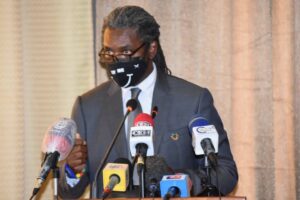 Added to this, Samuel Ervé Mandeng, another representative of the diaspora and who doubles as promoter of the Cameroon Digital Boost has acknowledged the fact that Cameroonians living abroad have problems in acquiring land at home, yet these problems differ from one continent to the other.
"We don't have the same problem like in Europe. In Canada and the United States for instance, the government help us with a percentage of 95 to have a house. It is not the same. But we want to invest in Cameroon because we grew up here, and the problem we have is that of double nationality. We cannot buy land here. Also, many do not trust more than families because of abuse and we don't have structures or companies which can help us in this task and facilitate our investments." He said.
Samuel Ervé Mandeng equally points-out that, government looses a lot by not creating room for the investment of the diaspora.
He said: "We want to emphasize on the fact that, this issue makes the government to loose of money. Because Canadians and Americans have a lot of money."
The president of the parliamentarians' network on diaspora, decentralized and cross-border cooperation in its acronym REP-COD, said apart from the stages and procedures to be followed strictly, there are several hindrances to be tackled by government in order to move in Cameroonians living abroad and mostly estimates made on close to 8 million in the land tenure sector.
Honorable Louis Henri Ngantcha said: "If we wish that our children come back home, there is need for them to have a shelter. They need a place to live and they can't come back home to go and stay in their parents' houses…"
The various reforms on land acquisition, social housing were equally outlined by Minister Henri Eyebe Ayissi of state property, surveys and land tenure and the general managers of the Cameroon real estate corporation, Maetur and credit foncier.
Yet, as underscored by External relations' Minister, LeJeune Mbella Mbella, government has set in motion some measures to encourage the diaspora to come and invest back home.
Minister of housing and urban development, Celestine Courtes Ketcha said, thanks to the will of the Head of state, government has attributed 10% of low cost housing to the diaspora. Minister Courtes emphasized on the fact that these 10% take into account all the various sites, that is in Douala Bakoko, Yaounde Olembe just to name these few.
"I also call on our diaspora for action and support. And I said it, when I was a mayor, many elites of the diaspora who supported my works by putting me in contact with developers. I call our diaspora to do their best and be actors of sustainable development our country held by the Head of state." Minister Courtes said.
The one day forum which was marked by series of questions from MPs also saw the presence of Georges Elanga Obam, minister of decentralization and local development, who came to brief the assistance on matters at roots which concern local authorities, under his chairmanship.
The sitting ended up with series of recommendations amongst which are:
-The administrations involved in Cameroon's investment policy for its diaspora should work under the coordination of the ministry of external relations;
-Government should put in place exceptional measures, which should be regulated to streamline the granting of prior approval for the acquisition of property to Cameroonians of the diaspora who have acquired foreign nationalities in the same way as those applied on Cameroonians living in the country;
-The ministry of water resources and energy should ensure that the various networks are taken into consideration by distributors concerned in order to make them bring water and electricity to residential areas;
-Government should work towards the harmonization of the costs of building materials all over the national territory;
-Government should make the procedure of establishing land titles secure, enhance the security of land titles and protect innocent acquires;
-The state should establish and ensure the effective and efficient functioning of land and real estate transactions one-stop shops in view of restoring confidence between Cameroon and its diaspora;
-Government should expand the collection base to 15% of the current contribution as it is essentially constituted of salaried workers of the public and private sectors in view of enabling credit foncier to better meet the increasing demands of Cameroonians especially those of the diaspora as regards real estate projects;
-The state should put land at the disposal of councils on condition that a percentage should be integrated in advisory committees;
Government should improve mechanisms for communication and advertisement on matters of land and good governance in the issuing of building permits;
-Government should work towards its cohesion in abid to avoid the multiple use and dissipation of energy.
Elise Kenimbeni