Close to a hundred participants from West and Central African states are meeting in Yaounde, Cameroon's nation capital as part of a three day regional conference initiated by the Konrad Adenauer Stiftung foundation and the University of Yaounde II.
The meeting launched on July 21, 2021 at the Hilton hotel is aimed at reviewing the level of inclusiveness in the production of peace in the West and Central Africa Region, in line with political and social responses adapted.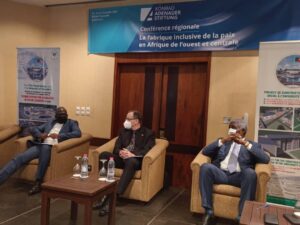 Amongst others, the conference has as main objectives: putting in place a cartography of various actors in the production chain of peace; engaging a dialogue between Europe and Africa on the new mechanisms for military assistance; identifying key factors hindering peace consolidation just to name these few.
The three day regional conference gathering various academicians, experts, parliamentarians, foreign affairs' officials, military officers, gendarmes, policemen, traditional and religious leaders as well as independent consultants from 25 countries paves the way to scientific reflections on how to create an inclusive peace in the West and Central African Region.
In his key note address, the Rector of the University of Yaounde II praised the initiative which comes at a right moment, with regards to the numerous conflicts and crises in which the Sub-region is entangled. Prof. Adolphe Minkoa She equally hailed the Konrad Adenauer Stiftung foundation which has for the past three decades through its different programmes played a crucial role in improving peace on the African continent in general, and in the Sub-Saharan region in particular.
Prof. Adolphe Minkoa She reiterated in his speech, the firm engagement of the University of Yaounde II described as the future technopole of social sciences and which currently operates as an interdisciplinary and collective research centre with high-profile academicians from various socio-professionals backgrounds.
Talking on behalf of the Konrad Adenauer foundation, Regional Director for security policy dialog in Sub-Saharan Africa, Roland Stein said discussions are mainly focused on diagnosing solutions to the various conflicts, crises and post conflicts.
He outlined the fact that despite successes from defence and security forces, the questions on how to create enduring peace and how to support nation building are essential during discussions.
Roland Stein said: "We hope to find answers to part of these questions during the conference. We are basing on three international research papers at the programme this year, where we try to find out who should be included in producing peace? The other one is dealing with the mechanisms which should be implicated to create peace. And last but not the least is on a new research paper which is regarding the new European Union peace facility and combining these three research papers we will start to table the question of a strategic approach to nation building and the creation of lasting peace in Sub-Saharan Africa."
Speaking to media practitioners, Vice-Rector of the Yaounde II University, Prof. Nadine Machikou added that, this regional cometogether is a pace setter for the Yaounde II university which will facilitate conversation for peace.
She said: "What is very important to affirm here, is the fact that the university is at the centre of reflections on peace processes in our societies…Having people from different countries with different capacities to remise peace.  At the initiative of this conference, there is a study/research that was produced on how to frame peace in an inclusive way. So, if during these three days, in an inclusive way people are gathered together, to speak and give ways or tools that could help to rebuild peace, I think that will be a great achievement. And in a more sustainable way, we expect at the end of this conference that there will be networks for peace and more research initiatives for the University of Yaounde II as the technopole of social sciences, whose ambition is to bring out solutions for the various challenges that our country is facing."
As deliberations unfold till the 23rd of July 2021, participants are expected to move out with sustainable responses and recommendations for this crucial issue of peacebuilding in Sub-Saharan Africa.
Worthy to note the Konrad Adenauer Stiftung foundation through its programme for the promotion of dialogue on security policies in Sub-Saharan Africa, known in its French acronym as SIPODI, which was put in place on November 2015, has been working on problems linked to peace and security in countries covering its project.

Elise Kenimbeni