A workshop aimed at disseminating successes and challenges recorded during phase II of the project dubbed AVENIR took place in Yaounde, Cameroon on Tuesday 16th of May 2023.
Thanks to Plan International offices in France and Cameroon as well as its key partners which are the French Development Agency, CEFAN, and AJSB, several vulnerable youths have regained hope in life. This is simply due to the project dubbed AVENIR II which laid emphasis on quality inclusive education and socio-economic empowerment of young people notably girls and women in the Yaounde 2 and 7 subdivisions of the Mfoundi division.
Fruitful Achievements of AVENIR II
During the one-day workshop dedicated to sharing of best practices, hindrances, and perspectives of phase 2 of the AVENIR project, participants convened by Plan International Cameroon at the head office in Bastos, Yaounde have praised the 3-year initiative that drops curtains on May 31, 2023.
Field partners such as the Cameroon Education for All Network, CEFAN, and "Amicale des Jeunes Solidaires de la Briqueterie", AJSB still nourish the will to see another phase of the project in Cameroon. The project to them has saved several vulnerable young girls who lived in precarious conditions.
Taking the floor on behalf of the Country Director of Plan International Cameroon, Mr. Fabien Ongono who occupies the post of Programme Implementation Manager praised the numerous achievements registered by the AVENIR project both in its phases 1 and 2.
Mr. Ongono said after phase 1 which was mainly focused on inclusive education, the project in its second phase created an ecosystem favorable for self-entrepreneurship in the domains of catering, tailoring, hairdressing, etc., to address some shortcomings witnessed at the end of phase 1.
The spokesperson of the country Director said most of the youths schooled during phase 1 of the project were unable to earn a living after.
According to Fabien Ongono, the choice bestowed on the Yaounde 2 and 7 subdivisions emanates from the fact that these two parts of the Mfoundi Division have the lowest rates of school enrolment and welcome internally displaced persons affected by the Boko Haram and Anglophone crises, unlike refugees from the Central African Republic.
With the implementation of this project in these two subdivisions, the first phase has registered a handful of successes in terms of improvement in end-of-year exams as stated by Mr. Ongono.
It was disclosed that during this period, the success rate in the primary education level rose from 74% to 95% in the Yaounde II subdivision for instance. Moreover, 126 youths had access to professional training and among them were close to 79% young women.
Speaking on behalf of the Divisional officer of Yaounde II, Mr Ngah Gael said thanks to the project AVENIR several youths have acquired and developed skills that permitted them to be autonomous.
Gael Ngah says: "The divisional office of Yaounde II acted more like a watchdog that monitored and followed up the process to be sure that the objectives that were stated at the start of the project were fully implemented. And we were really satisfied because several youths in our district were empowered. We, therefore, seize this occasion to thank Plan International and the French Development Agency, AFD."
On her part, Juliette Voland from Plan International France said the second phase of the project was highly appreciated at the level of France because of its full implementation and positive records.
"We are very satisfied with the project at the level of France. This symbolizes what Plan International knows best on the field in terms of strategic thematic like quality education and socio-economic reinsertion. We have observed the engagement of various stakeholders and we believe this is just the beginning of a fruitful journey…" She said.
During the closing session of the AVENIR II project, beneficiaries were brought on the spot to showcase their products, and skills and exchange with their young peers and stakeholders. At the esplanade of the head office of Plan International Cameroon in Bastos, Yaounde, we met with two beneficiaries.
Success stories
Ines Joelle, 32 is now a flower designer. She has been trained thanks to the AVENIR II project. The young lady says she was chanced to be selected among the numerous beneficiaries enrolled by AJSB in 2020.
Today, she can better cater for her children and herself with the revenues gained from her art.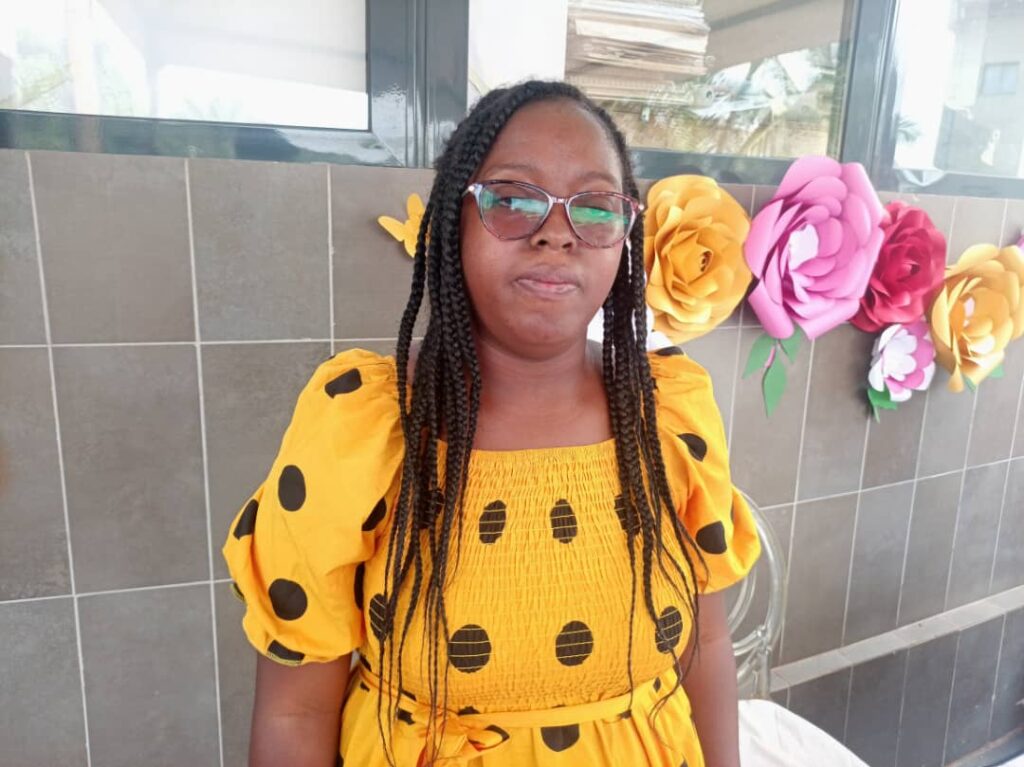 "I can earn a living today thanks to the training received through this project. I was trained in tailoring and with the skills acquired, I later on furthered my training in flower designing. It is a domain that is not explored but it is quite passionate." Ines Joelle narrated.
Added to her training in flower designing, Ines Joelle got a scholarship to pursue her studies in digital art. An achievement that she attributes to Plan International which has helped her to realize her dreams.
Another success story recorded is that of Sabiya Tahirou aged 18 who is today an owner of a sewing workshop.
Sabiya Tahirou said she was informed by her cousin of the enrolment of young girls at the multipurpose youth empowerment center of Yaounde II in Madagascar. When she went there, the number of places was full and enrolment closed, yet she insisted and was later taken into the program.
She said: "I didn't want to stay at home. I wanted to learn something by all means since I could not go to school because my parents did not have money. So, when my cousin told me about these opportunities, I didn't waste time, I just rushed there directly."
She added: "I followed a 9-month training session in tailoring. Today I have my sewing workshop thanks to Plan International Cameroon. And I have three young persons working with me."
Worthy to note, the AVENIR II project was set up from 2020 to 2023, after the first phase covered from 2017 to 2020. The project focused on 8000 pupils and students of 38 primary schools and 4 high schools with a target of 4200 girls. Over 100 youths were trained in a bid to accentuate socio-economic reinsertion.
Elise Kenimbeni