Government and key partners such as Plan International have organized in Yaounde, a two-day national workshop aimed at monitoring cooperation activities carried out in priority education zones in Cameroon.
On Tuesday 17th of May 2022, Cameroon's nation capital, Yaounde played host to a two-day national workshop for the monitoring of cooperation activities in priority education zones, ZEP. The two day cometogether regrouped some government officials from the ministry of basic education, technical and financial partners who are a milestone in this project such as Plan International and UNICEF and alongside various mayors, civil society organizations working in the domain of education in humanitarian settings.
Presiding over the workshop on behalf of Minister Laurent Serges Etoundi Ngoa, Secretary General in the ministry of basic education, Adams Daniel Oyono outlined government's major concerns on this cooperation which is attached to its education policy. And the pursuit of sustainable development goal number 4 based on: "ensuring inclusive and equitable quality education and promoting lifelong learning opportunities for all."
UNICEF's Deputy Representative in Cameroon, Arsène Azandossessi on his part, reaffirmed the will of his organization to follow-up concrete and impactful actions in priority education zones, where thousands of young boys and girls are deprived from equal opportunities.
On his part, interim country Representative of Plan International Cameroon made an inventory of major ills affecting children and pupils in regions crippled by crises. Dr Sayang Collins nailed down issues which have for the past years led to an inflation of children out of school and who by the way are in dire need of support.
"Facing school shut downs, physical and sexual violence, threats, kidnappings, killings. Nine out of ten regions of the country continue to be impacted by one of three humanitarian crises: the crisis in the North-West and South-West, conflict in the Far North, and a refugee crisis, with people fleeing the Central African Republic. Because of these combined crises, over one million children need urgent education support." He said.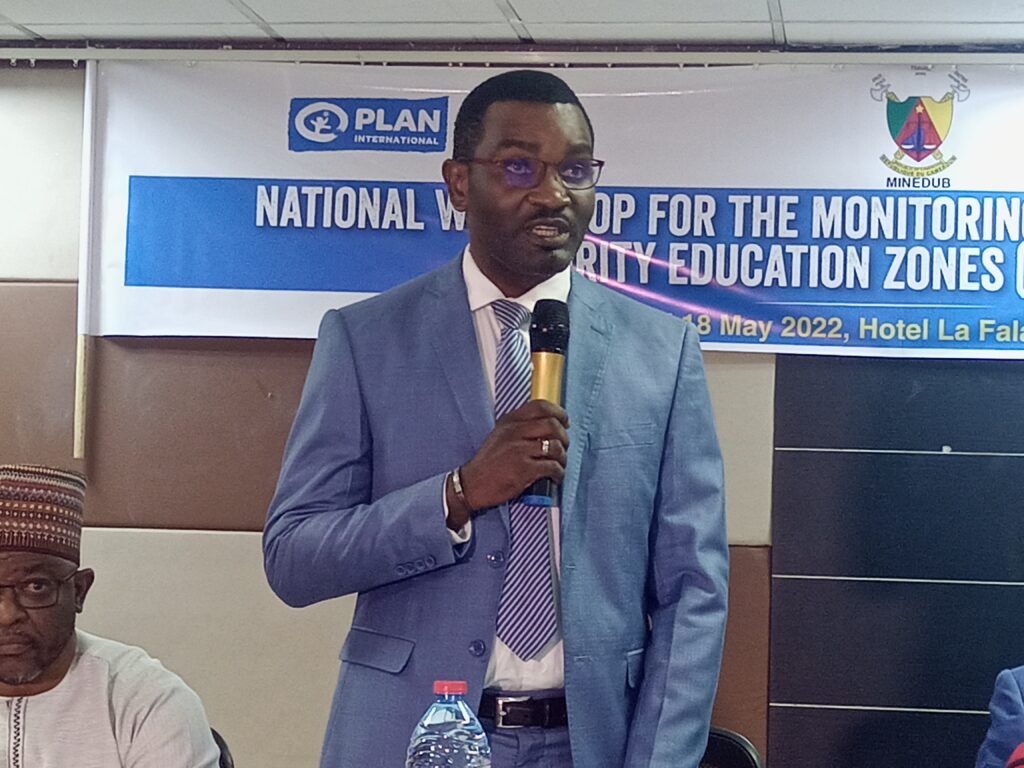 The workshop which gathered skilled actors, equally helped to set in motion new approaches that will render fruitful results in the priority education zones nationwide. The occasion was therefore well seized by Plan International's spokesperson, Dr Sayang, to underscore main challenges on the field and contributive efforts of his organization alongside the government.
Dr Sayang Collins said: "Concerned about the discrimination of children particularly girls which remains a major obstacle to human development in Cameroon due to impediments such as exclusion, denial of resources and access to opportunities because of harmful norms; Convinced of the need to reduce all forms of discrimination against children in all their diversities, to strengthen measures aimed at ensuring inclusive and quality education for all irrespective of their location. While working to ensure we are making the greatest contribution to advancing children's rights and equality for girls…"
In his key note address, Plan International's interim country Director pointed-out some important issues which are necessary in advancing the ZEP project on the field. Amongst the points indicated, there is the need to: review and monitor a well-defined policy of the ZEP initiative; evaluate a reliable and pertinent approach for the treatment of existing disparities that hinder access to education; setting-up an approach that will pave the way to a collaborative system with civil servants and various authorities in order to take into account indigenous children, children living with disabilities and others affected by all forms of discrimination.
As discussions unfold, much emphasis was laid on the benefits of this initiative being an all-inclusive approach for children affected in crises zones of Cameroon.
Plan International is an independent development and humanitarian organization that advances children's rights and equality for girls. The non-governmental organization was founded over 80 years ago (1937) and set-up in 1966 in Cameroon. Plan International strives for a just world, working together with children, young people, our supporters and partners.
Elise Kenimbeni