Central and West Africa's Directors of Plan International granted a press conference on September 22, 2023, after a 5-day strategic meeting in Yaoundé, Cameroon.
Leading humanitarian organization that advances children's rights and equality for girls, intends to intensify its humanitarian impact in fragile and security-sensitive contexts with regard to the growing scale and complexity of the challenges faced by children, particularly girls and young women in the Central and West Africa region.
This was officially announced on Friday 22nd of September 2023 by Directors of Plan International who gathered in Yaoundé from September 18 to 22, within the framework of their regional leadership management meeting. The said come-together brought from 15 countries, Directors of Plan International of Central and West Africa, Europe, the Americas, the Regional Bureau, and the International Head office.
The Yaoundé 2023 meeting as it was dubbed has been organized in Cameroon for strategic reasons and its humanitarian setting context. Mrs. Fatoumata Haidara, Regional Director of the Sahel and Lake Chad reassured the media.
In a one-hour presser, the Regional Director for Sahel and Lake Chad, Mrs. Fatoumata Haidara, and Country Director of Plan International Cameroon, Mr. Mohamed Bah responded to some saliant questions raised by media men as concerns some punctual activities to be undertaken in crisis-affected zones of the Central and West Africa regions.
In his introductory note, the Country Director of Plan International, Mohamed Bah disclosed that Plan International which is a non-governmental, humanitarian and development organization striving for children's rights and equality for girls worldwide for over 85 years now, was founded in 1937 during the Spanish Civil War by late British Journalist, John Langdon-Davies.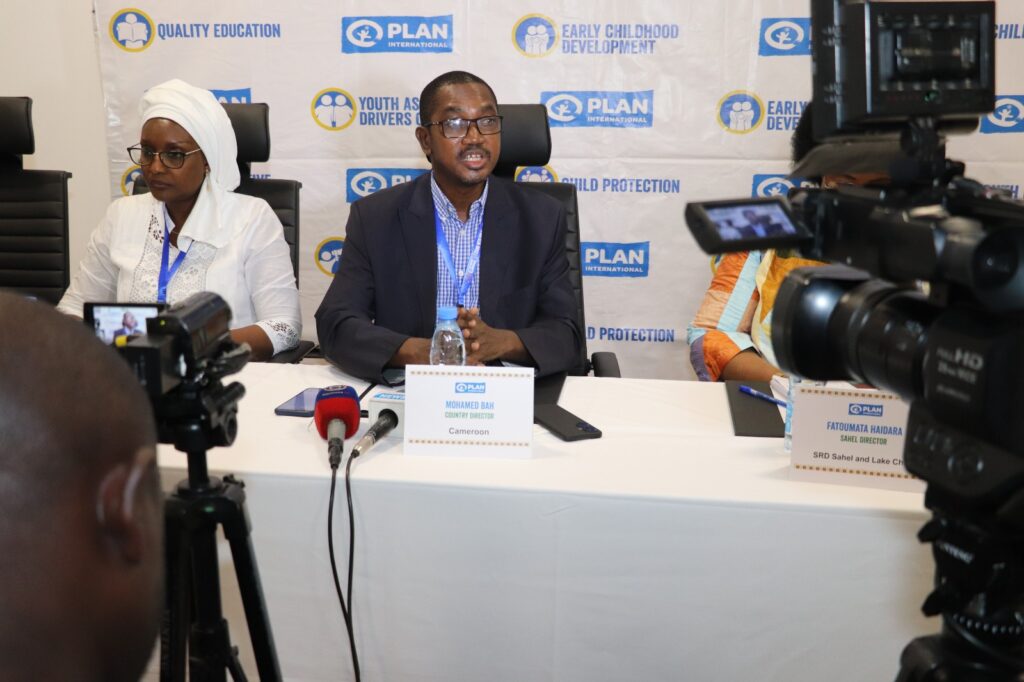 According to Mr. Bah, Plan International is first and foremost a heritage of the media. He said journalists have to support actions of the organization, be abreast of its community-led activities, and channel crucial information to the public.
"You the media, you are the vehicle. We have expertise in writing projects that can mobilize resources for action and in these projects, we put the necessary resources for you to transmit the information. We can do it; we just need to sit down together and agree on how to go and get the framework…" Mohamed Bah narrated.
Mr. Bah added that the organization has the zeal to do more with the few resources at hand.
He said: "We want to provide more quality protection for girls, more quality education to be sure that even in circumstances of crisis, the rights of girls to education, protection, and their dignity are assured…"
Fatoumata Haidara seized the occasion of the press conference to reaffirm the fruitful and longstanding cooperation ties existing between their organization and the government.
Answering the question on how the humanitarian organization envisages to fully implement its actions in conflicting areas like the North-West and South-West regions, Mrs. Fatoumata Haidara said the government and other international partners work closely with them for effective and impactful results.
"We are not working alone; we have the government. We work closely with communities; we have partners on the field and we do everything to reach the most vulnerable, especially children and girls. We are well grounded and we cannot do anything without all our partners." She said.
Added to Mrs. Haidara's response, Cameroon's Country Director made mention of the organization's presence in the country since 1996, which is proof of its notoriety.
Plan International's team also insisted on the fact that media practitioners should mainstream information to communities, especially that of vulnerable youths who are the core targets in the organization's agenda.
Mohamed Bah went further to request from media practitioners present at the press conference, to see how they can explore collaborative avenues with Plan International. He is convinced media men throughout their various trade unions and associations could champion key topics concerning young people and the girlchild in particular.
Representative of young people at the 5-day meeting, Miss Beltivate who is part of the regional youth advisory panel said youths are highly involved in the decision-making processes of Plan International. She saluted the initiative of Plan International which is devoted to their cause and said they will keep monitoring youth activities.
Togo's Country Director, Mrs. Awa Faly Ba who was charged with reading the final recommendations outlined some main issues among which are: Plan International's commitment to working well together to deliver its regional value proposition (lead, protect, serve, connect); working with and across the region, country offices, and clusters, with clear accountabilities and mutually reinforcing leadership behaviors and rely on the support of local partners to better their operations on the field.
As indicated, by scaling up its humanitarian impact, Plan International wishes to pursue its 2022-2027 Global Strategy dubbed: "All Girls Standing Strong Creating Global Change".
Elise Kenimbeni